Kinetik: Game Technology, Information System, Computer Network, Computing, Electronics, and Control journal is open access journal in the field of Informatics and Electrical Engineering. This journal is available for researchers who want to improve their knowledge in those particular areas and intended to spread the knowledge as the result of studies. On the process of indexing Universal Impact Factor and much more. 
This journal was published by Department of Informatics and Electronic Engineering, Universitas Muhammadiyah Malang. 
Submitted papers are evaluated by anonymous referees by double-blind peer review for contribution, originality, relevance, and presentation. The Editor shall inform you of the results of the review as soon as possible, hopefully within 2 - 4 weeks. The research article submitted to this online journal will be peer-reviewed at least 2 (two) reviewers. The accepted research articles will be available online following the journal peer-reviewing process.
In order to improve the quality of articles, we inform you that for each submitted article must be written in English, there are at least 2 authors and 10 articles references from journal and proceeding using Mendeley as referencing software.
OAI address of KINETIK journal: http://kinetik.umm.ac.id/index.php/kinetik/oai
Publication Schedule
February:
Deadline: 30 December
Publish: 28 February

May:
Deadline: 30 March
Publish: 30 May

August:
Deadline: 30 June
Publish: 30 August

November:
Deadline: 30 September
Publish: 30 November
Need a Username/Password? Go to Registration 
Already have a Username/Password? Go to Login 
Please use Kinetik template to submit Download Template Kinetik
Fees charged for the process in the journal are organized as follows:
Article Submission: Free
Review Process: Free
Article Publication: Free
Hardcopy / Printed version: 150.000 IDR
Any question? please do not hesitate to contact us
Department of Informatics Engineering
Jl. Raya Tlogomas No.246 Malang, East Java
Phone: +62341464318 (Ext. 247)
Agus Eko Minarno
WhatsApp:  081233084984
Email: kinetik@umm.ac.id
Wahyu Andhyka Kusuma
WhatsApp:  08973127396
Email: kusuma.wahyu.a@umm.ac.id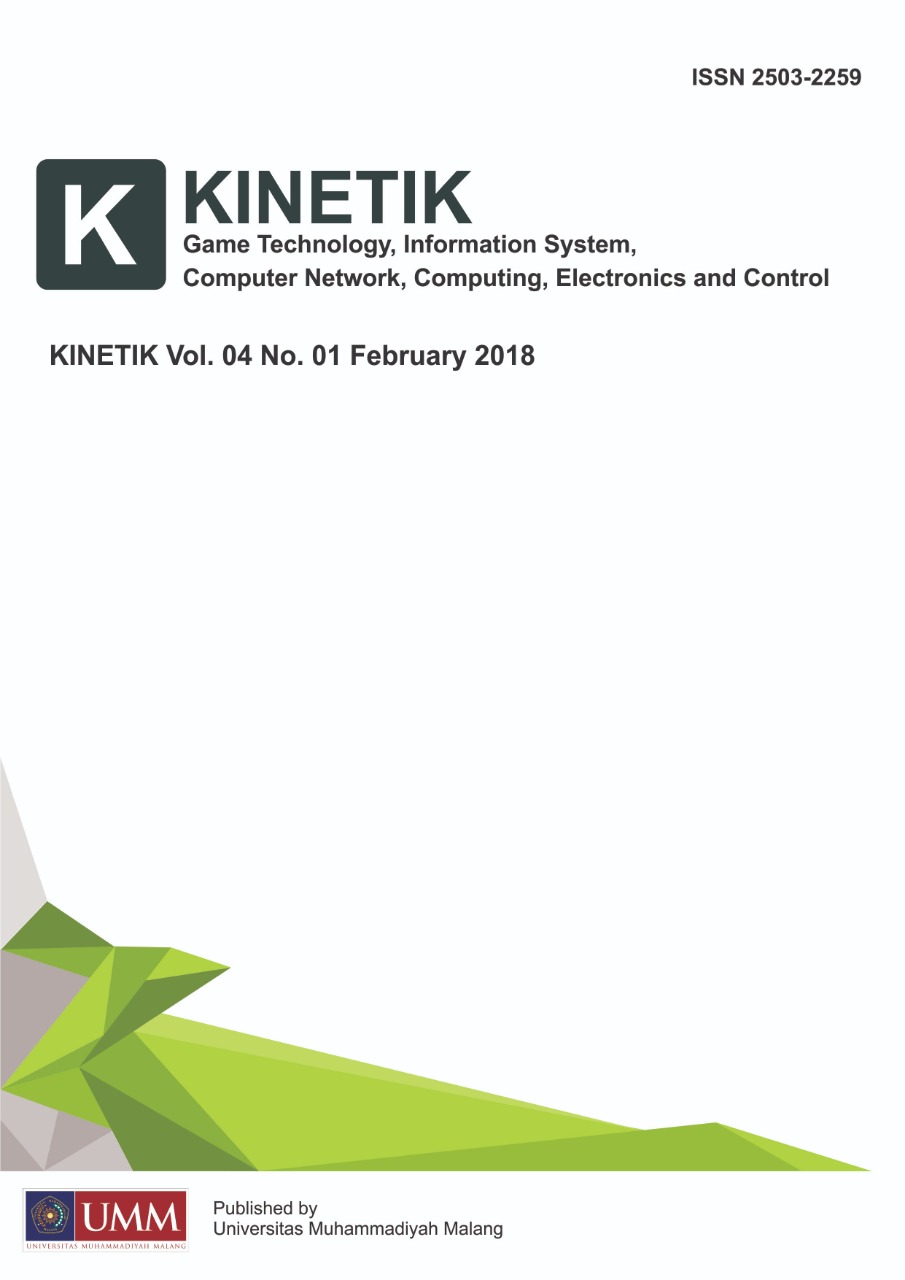 News: Indexing DOAJ

Kinetik has been indexed by DOAJ Green tick

Posted: 2017-05-04

News: Indexing

Kinetik has been indexing in Google Scholar, One Search, Base.
Posted: 2017-04-21

News: Author and References

To improve the quality of the articles, every article should be at least two people and 10 references
Posted: 2017-04-18

Creative Commons License Kinetik : Game Technology, Information System, Computer Network, Computing, Electronics, and Control by http://kinetik.umm.ac.id is licensed under a Creative Commons Attribution-ShareAlike 4.0 International License.