Online Submissions

Registration and login are required to submit items online and to check the status of current submissions.

Already have a Username/Password for Kinetik: Game Technology, Information System, Computer Network, Computing, Electronics, and Control?

Go to Login Start New Submission
Copyright Notice

It is a condition of publication that authors assign copyright or licence the publication rights in their articles to Journal KINETIK. Authors are themselves responsible for obtaining permission to reproduce copyright material from other sources.
Privacy Statement

The names and email addresses entered in this journal site will be used exclusively for the stated purposes of this journal and will not be made available for any other purpose or to any other party.
Submission Preparation Checklist

As part of the submission process, authors are required to check off their submission's compliance with all of the following items, and submissions may be returned to authors that do not adhere to these guidelines.
The submission has not been previously published, nor is it before another journal for consideration (or an explanation has been provided in Comments to the Editor).

The submission file is in Microsoft Word document file, not PDF files.

All Tables, Drawings and Formulas must be referred to in the paragraph.

All words, sentences, punctuation marks are in accordance with the grammar and all Bibliography has been referenced in the paragraph.

Minimum of 20 Recent and Most Relevant Library Listings from Reliable Journals, should refer to articles already in the Kinetik Journal.
Supervised by: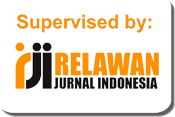 Statistic:

Creative Commons License Kinetik : Game Technology, Information System, Computer Network, Computing, Electronics, and Control by http://kinetik.umm.ac.id is licensed under a Creative Commons Attribution-ShareAlike 4.0 International License.