News: Workshop of Journalism Assistance for Potential Accreditation Journal on 2018 – July 11-13, 2018

This activity is completed to develop National scientific journal accreditation. Directorate General of Intellectual Property, Directorate General of Research Development. The participating Journals are expected to be accredited nationally.
Posted: 2018-07-13

News: Seminar of Management Intensification Strategy toward Accredited Scientific Journal – May 2, 2018

This activity was executed for Journal Managers in  supporting their Journals before accreditation. This event was held at Ijen Suites Resort and Convention Malang.


Posted: 2018-07-13

News: Preparation of KINETIK Internal Accreditation – January 27 – 31, 2018

This activity is spent for KINETIK Internal Accreditation preparation which will be held on Ibis hotel. This activity discusses about some information to improve KINETIK quality before accreditation
Posted: 2018-07-13

News: Relawan Jurnal Indonesia (RJI) Yogyakarta - January 18, 2018

This activity was achieved in order to "Sharing The Preparation Experience for Accreditation". This activity was performed to share knowledge and experience among Journal managers.
Posted: 2018-07-13
Supervised by: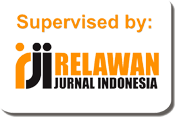 Statistic:

Creative Commons License Kinetik : Game Technology, Information System, Computer Network, Computing, Electronics, and Control by http://kinetik.umm.ac.id is licensed under a Creative Commons Attribution-ShareAlike 4.0 International License.