Abstract views: 1222
Sensor Fusion Accelerometer dan Gyroscope untuk Pengukuran Perubahan Kinematik Pergelangan Kaki
Abstract
Sensor fusion merupakan metode penggabungan dua jenis sensor yang berbeda dimana memiliki karaktersitik yang hampir sama untuk mendapatkan suatu fungsi baru. Salah satu fungsi dari sensor fusi adalah mendapatkan perbandingan antara dua sensor yang digabungkan. Penelitian tentang perubahan kinematik telah jamak dilakukan, hal ini dikarenakan dengan melihat perubahan kinematik manusia dapat menentukan pola pergerakan, klasifikasi, hingga proses rehabilitasi medis. Seluruh anggota tubuh yang terhubungkan oleh sendi dan bergerak dapat diukur nilai kinematiknya. Penelitian ditujukan pada pergelangan kaki untuk mengetahui langkah serta pergerakan naik turunnya pergelangan kaki, hasil dari penelitian ini diharapkan mampu mendukung penelitian lanjutan untuk membantu proses rehabilitasi medis pada pasien yang mengalami cidera pergelangan kaki. Penelitian yang dilakukan pada empat orang yang berbeda melakukan aktivitas lari, jalan lambat, jalan ditempat, dan jalan cepat didapatkan perbedaan rata-rata dari kedua sensor yang dihasilkan oleh gyro x dan acc x adalah 10,27%, gyro y dan acc y adalah -25,39%, gyro z dan acc z adalah -10,33%. Dari kedua sensor tersebut dapat disimpulkan bahwa accelerometer dan gyroscope dapat digunakan untuk mengukur besarnya perubahan kinematik.
Keywords
Sensor Fusi, Rehabilitasi Medis, Kinematik
References
[1] Sumartiningsih, Sri. (2012). Cedera Keseleo pada Pergelangan Kaki (Ankle Sprains).
[2] Kusuma, Wahyu A. (2013). Sistem Interaksi Alami Menggunakan Sensor Kamera Kedalam Citra dengan Mendeteksi Gerakan Kerangka Kinematik Manusia. Jurusan Teknik Informatika-ITS. Thesis.
[3] Mayagoitia, Ruth E., Anand V. Nene, and Peter H. Veltink. "Accelerometer and rate gyroscope measurement of kinematics: an inexpensive alternative to optical motion analysis systems." Journal of biomechanics 35.4 (2002): 537-542.
[4] Euston, Mark, et al. "A complementary filter for attitude estimation of a fixed-wing UAV." Intelligent Robots and Systems, 2008. IROS 2008. IEEE/RSJ International Conference on. IEEE, 2008.
[5] Kangas, Maarit, et al. "Comparison of low-complexity fall detection algorithms for body attached accelerometers." Gait & posture 28.2 (2008): 285-291.
Refbacks
There are currently no refbacks.
Supervised by: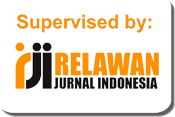 Statistic:

Creative Commons License Kinetik : Game Technology, Information System, Computer Network, Computing, Electronics, and Control by http://kinetik.umm.ac.id is licensed under a Creative Commons Attribution-ShareAlike 4.0 International License.