Abstract views: 1723
Business Process Assessment with Balanced Scorecard and Framework COBIT
Abstract
Manufacturing company is the company that produces household appliances based on plastic / plastic houseware, this company has applied information system but there is often problem in sales department that is when processing of data discount, data obtained wrong and not according to which have been determined. Therefore, the author is given the task to audit the information system on the company. The author uses the COBIT and Balance Scorecard framework, the COBIT domain used is the Plan and Organize (PO) and Acquire and Implement (AI), in the PO Domain the author uses PO4 sub-domains (Define the IT Processes, Organization and Relationships) Communications management aims and direction) and PO 9 (Assess and Manage IT risks) whereas in AI Domain used is AI4 (Enable Operation and Use), Balanced Scorecard Perspective used in this research is Internal Business Process, which focuses on business process assessment company and business goals have been in line with IT goals. The results from this research is still many deficiencies that exist in company especially at risk management of IT proven and IT risk management that have not managed maximally so that can be developed in the future.
Keywords
Business Process, Assessment, COBIT, Balanced Scorecard
References
[1] S. Erniwati and N. K. Hikmawati, "An Analysis of Information Technology on Data Processing by using Cobit Framework", International Journal of Advanced Computer Science and Applications, vol. 6, no. 9, 2015.
[2] A. P. Utomo and N. Mariana, "Analisis Tata Kelola Teknologi Informasi (IT Governance) pada Bidang Akademik dengan Cobit Frame Work Studi Kasus pada Universitas Stikubank Semarang", Jurnal Teknologi Informasi Dinami, vol. 16, no. 2, pp. 139-149, 2011.
[3] R. Alit, I. D. Pratiwi and M. Idhom, "Tingkat Kematangan Infrastruktur Teknologi Informasi Pada Domain Acquire and Implement Menggunakan COBIT 4.1", Kinetik, vol. 2, no. 3, 2017.
[4] J. F. Andry, "Process Capability Model Based on COBIT 5", Jatisi, vol. 3, no. 1, pp. 23-33, 2016.
[5] J. F. Andry and H. Hartono, "Performance Measurement of IT Based on COBIT Assessment: A Case Study", Association for Information Systems, vol. 2, no. 1, 2017.
[6] G. Giannopoulos, A. Holt, E. Khansalar and S. Cleanthous, "The Use of the Balanced Scorecard in Small Companies", International Journal of Business and Management, vol. 8, no. 14, 2013.
[7] O. Zizlavsky, " The Balanced Scorecard: Innovative Performance Measurement and Management Control System", Journal of Technology Management & Innovation, vol. 9, no. 3, 2014.
[8] M. Rubino and F. Vitolla, "Internal Control Over Financial Reporting: Opportunities Using The COBIT Framework", Managerial Auditing Journal, vol. 29, no. 8, pp. 736-771, 2014.
[9] J. K. Khomba, "Conceptualisation of the Balanced Scorecard (BSC) model: A critical review on its validity in Africa", International Journal of Commerce and Management, vol. 25, no. 4, pp. 424-441, 2015.
[10] J. F. Andry, "Audit Tata Kelola Ti Menggunakan Kerangka Kerja Cobit Pada Domain Ds Dan Me Di Perusahaan Kreavi Informatika Solusindo", Seminar Nasional Teknologi Informasi dan Komunikasi 2016 (SENTIKA 2016), 2016.
[11] IT Governance Institute Team, COBIT 4.1, USA : IT Governance Institute, 2007
[12] P. Řehoř and D. Holátová, "Application Of Balanced Scorecard Method As A Tool For Strategic Management Of Chosen Municipality," International Conference 2013, pp. 333-340, 2013.
Supervised by: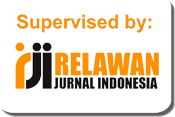 Statistic:

Creative Commons License Kinetik : Game Technology, Information System, Computer Network, Computing, Electronics, and Control by http://kinetik.umm.ac.id is licensed under a Creative Commons Attribution-ShareAlike 4.0 International License.