Expert System for Diagnosing Palm Tree Diseases and Pests using Forward Chaining and Certainty Factor
Abstract views: 884
Expert System for Diagnosing Palm Tree Diseases and Pests using Forward Chaining and Certainty Factor
Abstract
A general introduction to pests and diseases of palm oil crops in relation with the business of palm oil cultivation is necessary to increase the productivity of palm oil plantations. Unfortunately, the number of experts and researchers having expertise in palm oil plants are still very small. To overcome this, an expert system is needed to diagnose diseases and pests in palm oil crops. Therefore, this study proposes an expert system for diagnosing palm tree diseases and pests. The diagnosis begins by entering the initial symptoms, then the system will display other related symptoms. Finally, the system will display the diagnosis of the symptoms entered.  This expert system will ease farmers in identifying diseases and pests based on early symptoms; hence, necessary prevention and early treatment of the disease can be accurately conducted.
Keywords
Expert System; Forward Chaining; Certainty Factor; Palm Tree Diseases and Pests
References
[1] Y. Fauzi, Y. E. Widyastuti, I. Satyawibawa, and R. H. Paeru, "Palm Oil Tree," Jakarta: Penebar Swadaya, 2012.
[2] Directorat General of Plantation "The Increase of Palm Oil Tree Area," 2015. .
[3] S. Rohajawati and R. Supriyati, "Expert System on Diagnosing Poultry Diseases - Chicken Diseases," CommIT, Vol. 4, No. Expert System, Pp. 41–46, 2010.
[4] D. Puspitasari, "Expert System on Diagnosing Nefropathy Diabetes Using Certainty Factor Method Based on Web and Mobile," Politechnics. Electronics. ITS Surabaya, 2012.
[5] L. Latumakulit, "Expert System on Diagnosing Child Disease Using Certainty Factor (CF)," Journals of Universitas Sam Ratulangi, 2012.
[6] Kompasiana, "Recognising and Controlling Pets on Palm Oil Trees," 2013.
[7] Y. Winarto, "Pests and Natural Enemies, Medicine and Poison: Knowledge Dinamics on Rice Farmers in Controlling Pests," Indonesian Anthropology XII (55), Pp. 53–68, 1998.
[8] Kusrini, "Application of Expert System: Determining User's Certainty Factor Using Quantification Method Based on Questions," Yogyakarta: Penerbit Andi, 2008.
[9] J. C. Giarratano and G. Riley, "Expert Systems: Principles and Programming," Boston, MA, USA: PWS Publishing Co., 1994.
[10] R. Fauzan, D. O. Siahaan, and N. F. Ariyani, "Case Recommendation on Applications Based on Narative Scenario Using Semantic Technology," Pp. 32–37.
Refbacks
There are currently no refbacks.
Supervised by: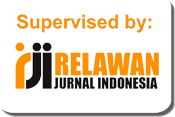 Statistic:

Creative Commons License Kinetik : Game Technology, Information System, Computer Network, Computing, Electronics, and Control by http://kinetik.umm.ac.id is licensed under a Creative Commons Attribution-ShareAlike 4.0 International License.