Penentuan Pola Kunjungan Wisatawan Ke Berbagai Objek Wisata Di Pulau Ambon Menggunakan Frequent Pattern Growth
Abstract views: 485
Penentuan Pola Kunjungan Wisatawan Ke Berbagai Objek Wisata Di Pulau Ambon Menggunakan Frequent Pattern Growth
Abstract
Untuk menyusun perencanaan pengembangan objek daya tarik wisata di pulau Ambon khususnya penentuan pola perjalanan wisatawan diperlukan data dan Metode yang relevan, salah satu metode penentuan pola kunjungan wisata adalah Metode Frequent Pattern Growth yang terbukti dapat digunakan untuk melihat pola kecenderungan. Dari 505 sampel data wisatawan Gabungan yang terdiri dari 331 wisatawan Domestik dan 174 wisatawan mancanegara yang berkunjung ke 18 objek daya tarik wisata di pulau Ambon dengan minimum support 10 % dan minimum confidence 70 % didapatkan 12 pencarian pola kunjungan wisatawan yakni pola kunjungan wisatawan domestik, Mancanegara dan Gabungan  ke seluruh ODTW, ODTW Pantai, ODTW Sejarah dan ODTW Alam. Dari masing–masing item, diambil 10 pola berdasarkan tingkat confidence tertinggi untuk dijadikan bahan rekomendasi bagi dinas terkait menyangkut penentuan pola kunjungan wisatawan di pulau Ambon.
Keywords
Pola Kunjungan, Wisatawan, Pulau Ambon, Frequent Pattern Growth
References
[1] J. Ariati, I. Ibrahim, "Sebaran Habitat Perkembangbiakan Larva Anopheles Spp Di Kecamatan Bula, Kabupaten Seram Bagian Timur, Provinsi Maluku," Jurnal Ekologi, 2014.
[2] J. Han, J. Pei, Y. Yin, R. Mao, "Mining Frequent Patterns Without Candidate Generation: A Frequent-Pattern Tree Approach," Data Mining and Knowledge Discovery, 2004.
[3] J. Han, J. Pei, "Mining Frequent Patterns By Pattern-Growth: Methodology And Implications," ACM SIGKDD Explorations Newsletter, 2000.
[4] J. Pei, J. Han, "Constrained frequent pattern mining: a pattern-growth view," ACM SIGKDD Explorations Newsletter, 2002.
[5] E. Rachman, A. Bachtiar, "Penerapan Data Mining Dalam Perekomendasian Setelan Busana Muslim Dengan Metode Association Rules Menggunakan," KNTIA, 2017.
[6] A. Wijaksono, H. Santoso, "Penentuan Lokasi Barang Pada 'A Swalayan' Menggunakan Association Rule Dengan Algoritma FP-Growth," SISITI Seminar, 2017.
[7] P. Lintang, M. Iqbal, A. Pujianto, "Sistem Rekomendasi Paket Makanan Dengan Algoritma FP-Growth Pada Restoran Seafood XYZ," SEMNASTEKNOMEDIA ONLINE, 2017.
[8] M. Robin, A. Rasel, A. Siddika, "An Efficient Approach to Mine Frequent Itemsets Using the Variant of Classic Apriori and FP-Tree," 2017.
[9] R. Krupali, D. Garg, "Survey on the Techniques of FP-Growth Tree for Efficient Frequent Item-set Mining," International Journal of Computer, 2017.
[10] L. Yuan, W. Itwee, S. Wei, "Association Rule Mining Technique with Optimized FP-Tree Algorithm," International Journal of Advanced, 2017.
Refbacks
There are currently no refbacks.
Supervised by: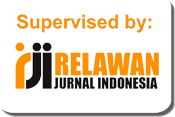 Statistic:

Creative Commons License Kinetik : Game Technology, Information System, Computer Network, Computing, Electronics, and Control by http://kinetik.umm.ac.id is licensed under a Creative Commons Attribution-ShareAlike 4.0 International License.