Pengembangan Mekanisme Otentikasi Dan Otorisasi Manajemen Config Pada Kasus Shared Web Hosting Berbasis Linux Container
Abstract views: 645
Pengembangan Mekanisme Otentikasi Dan Otorisasi Manajemen Config Pada Kasus Shared Web Hosting Berbasis Linux Container
Abstract
Sebagian besar penyedia layanan website menggunakan sistem operasi Linux. Ketika salah satu website dalam web server dapat diambil alih, kemungkinan besar website yang lain juga akan dapat diambil alih dengan cara membaca konfigurasi penghubung ke database. Mekanisme yang digunakan untuk membaca sebuah file konfigurasi dengan perintah di linux secara default memang tersedia, dengan menggunakan perintah "ln" yang dikenal dengan istilah "Symlink" yang dapat membaca direktori konfigurasi web walaupun berbeda direktori. Hasil penelitian yang dilakukan, konfigurasi yang terdapat di dalam aplikasi web yang berada direktori dalam satu server, walaupun tetap terbaca dengan menggunakan metode tersebut, namun tidak dapat di-decode untuk membaca username dan password, serta database name, karena sudah diberi otorisasi yang bisa medecode hanya dari direktori yang sudah terdaftar, sedangkan pada pengujian performa untuk latency, memory, dan CPU system yang diusulkan tidak sebagus dengan system sebelumnya, namun dengan menggunakan cache, respond time yang dihasilkan ketika diakses secara simultan dengan 20 kali klik per-user menunjukkan system yang lama sebesar 941,4 ms, sedangkan untuk sistem yang diusulkan sebesar 786,6 ms.
Keywords
Cyber crime; De-Militarised Zone; Docker engine; symlink
References
[1] Mirheidari, Seyed Ali, et al. "A Comprehensive Approach to Abusing Locality in User Web Hosting Servers." Trust, Security and Privacy in Computing and Communications (TrustCom), 2013 12th IEEE International Conference on. IEEE, 2013.
[2] Bernstein, David. "Containers and cloud: From lxc to Docker to kubernetes." IEEE Cloud Computing 3 (2014): 81-84.
[3] Suzuki, Etsuko. "A design of authentication system for distributed education." Information Technology Based Higher Education and Training, 2004. ITHET 2004. Proceedings of the FIfth International Conference on. IEEE, 2004.
[4] Gao, Lei, Chunhong Zhang, and Li Sun. "RESTful web of things API in sharing sensor data." Internet Technology and Applications (iTAP), 2011 International Conference on. IEEE, 2011.
[5] Stawowski, Mariusz. "The Principles of Network Security Design." ISSA Journal (2007): 29-31.
[6] Niu, Zhixiang, Cheng Yang, and Yingya Zhang. "A design of cross-terminal web system based on JSON and REST." Software Engineering and Service Science (ICSESS), 2014 5th IEEE International Conference on. IEEE, 2014.
Refbacks
There are currently no refbacks.
Supervised by: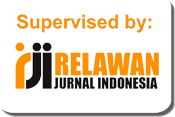 Statistic:

Creative Commons License Kinetik : Game Technology, Information System, Computer Network, Computing, Electronics, and Control by http://kinetik.umm.ac.id is licensed under a Creative Commons Attribution-ShareAlike 4.0 International License.