Abstract views: 617
The Development of Mobile Application Based Customer Service System in Bank Sampah Malang
Abstract
Malang Waste Bank, or commonly called Bank Sampah Malang (BSM), is a legal entity of incorporated cooperatives built by the Malang municipal government serving as a container of waste management, especially dry waste. During this time, the customer service process conducted in BSM has been not optimal, especially its online service. Some services have been accessible online through website but the information is limited only to the list of prices and types of waste received by BSM. While other necessary information needed by the customers such as balance checking, garbage collection schedule checking, and information about the types of saving managed by BSM has not been covered by the existing online system yet. This research has built an online customer service system based on mobile applications and SMS gateways for BSM. The purpose of the system is to facilitate the customers of BSM to obtain information about the garbage bank, especially for customers having high mobility. Interviews and observation are used as the method of the analysis of the system requirements. Meanwhile, the applications such as MySQL database, Web service, PHP CodeIgniter, SMS Gateway and Android as a language programming are used to develop the system. This system integrates android applications with web based applications by using web service. This system is made so that customers get better service. Evaluation results show the system that has been built has been successfully tested.
Keywords
Application, Bank Sampah Malang, Customer Service, Mobile
References
[1] Indonesia State Ministry of Environtment, "Indonesian Waste Disposal Statistics 2008," 2008.
[2] A. Lestari, "Innovative Program on Waste Management in Malang City," Public Administration Journal, Vol. 2, No. 3, Pp. 571–577, 2014.
[3] S. Arief, "Waste Management in Malang leading to Integrated Waste Management Based on Social Participation," Humanity Journal, Vol. 8, No. 2, 2013.
[4] B. Suweda, "Waste Bank (Theoretical Study and Application)," Yogyakarta: Pustaka Rihama, 2012.
[5] D. K. Malang, "Waste Management in Malang," Malang: Sanitary and Landscape Gardening Agency of Malang. 2015.
[6] R. Saputro, "Analysis of Product Quality, Service Quality, and Customer Trust to Customer Loyarty," Universitas Diponegoro Semarang, 2010.
[7] S. Yustanti, M.I. ; Hermawan Sulistyanto, "Design of Waste Bank Web-Based System Information," Universitas Muhammadiyah Surakarta, 2017.
[8] I. Purwanto, "Design of System Information on Saving Transaction of Garut Waste Bank," Algorithm Journal STT Garut, Vol. 9, 2012.
[9] J. Predede, "Implementation of Web Service Composite (A Case Study on Tourism Application," ITENAS Bandung, 2013.
[10] B. Beizer, "Black-Box Testing: Techniques For Functional Testing of Software and Systems." John Wiley & Sons, Inc., 1995.
Refbacks
There are currently no refbacks.
Supervised by: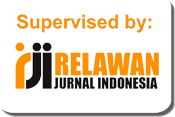 Statistic:

Creative Commons License Kinetik : Game Technology, Information System, Computer Network, Computing, Electronics, and Control by http://kinetik.umm.ac.id is licensed under a Creative Commons Attribution-ShareAlike 4.0 International License.