Improving MoWaS Application Backbone System for The Effectiveness of Responsive Behaviour in Facing Crime Threats and Emergency Situations
Abstract views: 486
Improving MoWaS Application Backbone System for The Effectiveness of Responsive Behaviour in Facing Crime Threats and Emergency Situations
Abstract
MoWaS is a mobile-based supporting application aiming to improve the rapid response against crime crime and emergency situations. The evaluation of MoWaS version 1.0 has 3 flaws. First, it is unable to create a group. Second, the MoWaS version 1.0 application is able to detect the current location of the alert sender but there is no feature to display information about nearby MoWaS application users. Third, MoWaS application version 1.0 is also not integrated with the official service or government agency related to the types of occurring crime. The results of the design revision and analysis were made including the MoWaS system architecture design, the MoWaS system flow described in the form of flowchart, and the MoWaS system interface design. The results of the analysis and design of MoWaS backbone system can be used as the basis for improvement of MoWaS system development. Hence, it can be concluded that the MoWaS application version 2.0 has a better work system than the previous version.
Keywords
alert, warning system, threats of crime, emergency situation
References
[1] D. P. Rara, "The Determinant Analysys of Fear of Crime Triggers on Thievery Cases on Housewives," Vol. 5, No. 1. Criminology Department, Faculty of Social and Political Science, 2009.
[2] S. Harseno, "Development of SIG and Early Landslide Warning in Yogyakarta Utilizing Web Service and API Google Maps based on Android," Universitas Gadjah Mada, 2015.
[3] F. R. Kodong, "Application of Volcano Status Monitoring Using Telemetry Temperature," in National Seminar on Informatics (SEMNASIF), Vol. 1, No. 5, 2009.
[4] M. T. Nurzaki and W. Wijanarto, "Automatic Routing based on Genetic Algorithm for Rapid Response," Information Technology Journal, Vol. 14, No. 2, 2015.
[5] K. S. Pribadi, D. Ayu Krishna Yuliawati, K. Kunci, and A. Disaster Management from ITB Mitigation Center, "Education on Earthquake Rapid Resonse to Improve Student Safety (Case Study in Cirateun and Padasuka 2 Elementary School in Bandung Regency)," Universitas Syiah Kuala, Aceh, 2008.
[6] A. Affandi, D. Riyanto, I. Pratomo, and G. Kusrahardjo, "Design and Implementation of Fast Response System Monitoring Server Using Simple Network Management Protocol (SNMP)," in International Seminar on Intelligent Technology and Its Applications (ISITIA), 2015.
[7] R. B. Reeley, "Mobile Detection and Alert System," US6166627 A, 2000.
[8] Michael W. Bulmer, "Alert System," US7126454 B2, 22-Nov-2006.
[9] H Lemelson Jerome and D. P. Robert, "Personal Emergency, Safety Warning System and Method," US6028514 A, 2000.
[10] A. Arizal and S. Alim, "Analysys and Design of Mobile Warning System (MoWaS) to Improve Rapid Response to Crime Threats and Emergecy Situations," in National Seminar on Information Technology (SNATIF), Pp. 883–887, 2017.
[11] H. M Jogiyanto, "Analysys and Design of Information System: Structured Approach, Theory, and Business Application," Third Edition, Yogyakarta: Andi Offset, 2005.
Refbacks
There are currently no refbacks.
Supervised by: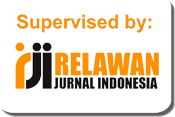 Statistic:

Creative Commons License Kinetik : Game Technology, Information System, Computer Network, Computing, Electronics, and Control by http://kinetik.umm.ac.id is licensed under a Creative Commons Attribution-ShareAlike 4.0 International License.