Abstract views: 620
Design and Implementation of COTS-Based Aircraft Data Network Using Embedded Linux
Abstract
Aircraft Data Network (ADN) is a data communication developed specifically for the aircraft environment. In such environments required data communication system that can work in real time and has a high level of reliability. One of the standards in ADN is Avionics Full-Duplex Switched Ethernet (AFDX) based on the ARINC 664 specification that is data communication standard for ADN that uses IEEE 802.3 standard on physical layer 1 and 2. It becomes the gap and challenge to implement the standard on the component of COTS By utilizing Linux-based embedded systems. The features designed and implemented in this paper are the switching and fault tolerant data components of ARINC 664. From the tests obtained, several results show that ADN functional features can be implemented and can simulate ADN mechanisms including fault tolerance capabilities. But there are performance limitations that the average jitter value of 3380 microseconds obtained has not met the requirements for use on aircraft that should be in the range of 500 microseconds.
References
[1] A. Committee, "Aircraft Data Network Part 7, Avionics Full Duplex Switched Ethernet (AFDX) Network, ARINC Specification 664," Annapolis, Maryl. Aeronaut. Radio, 2002.
[2] K. Christensen, P. Reviriego, and B. Nordman, "IEEE 802.3 az: The Road to Energy Efficient Ethernet," IEEE, 2010.
[3] H. Jung, "Fast Transmission Mechanism of Emergency Data in AFDX Network Systems."
[4] T. DeChiara, "Flight Control Computers with Ethernet Based Cross Channel Data Links," US Pat. App. 11/710,207, 2007.
[5] A. Sreekumar, K. Swetha, A. Swetha, and V. R. Pillay, "Enhanced Performance Capability in a Dual Redundant Avionics Platform – Fault Tolerant Scheduling with Comparative Evaluation," Procedia Computer Science, Vol. 46, Pp. 921–932, 2015.
[6] F. Brajou and P. Ricco, "The Airbus A380-an AFDX-Based Flight Test Computer Concept," AUTOTESTCON 2004. Proceedings, 2004.
[7] P. B. Champeaux, D. Faura, M. Gatti, and W. Terroy, "A Distributed Avionics Communication Network," in 2016 46th Annual IEEE/IFIP International Conference on Dependable Systems and Networks Workshop (DSN-W), Pp. 206–209, 2016.
[8] Y. Xiao, L. Li, and J. Wen, "Network Program Architecture Based Winpcap and Sock," Ordnance Industry Automation, 2005.
[9] P. Sig, "PCI Local Bus Specification Revision 2.2," PCI SIG, 1998.
[10] U. Specification, "Revision 2.0, 2000," Hewlett-Packard Company, Intel Corporation, Lucent.
[11] Faisal Defry Hussainy, "Implementation Full Duplex Switced Ethernet to Aircraft Data Based on Cots Embedded Device - Documents," Universitas Telkom, 2015.
[12] A. Rahadian, "Implementation of Data Redundancy to End–System Aircraft Data Network Based on Cots Embedded Device," Universitas Telkom, 2016.
Refbacks
There are currently no refbacks.
Supervised by: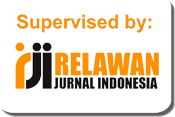 Statistic:

Creative Commons License Kinetik : Game Technology, Information System, Computer Network, Computing, Electronics, and Control by http://kinetik.umm.ac.id is licensed under a Creative Commons Attribution-ShareAlike 4.0 International License.