Studi Analisa Synchronous Rectifier Buck Converter Untuk Meningkatkan Efisiensi Daya Pada Sistem Photovoltaic
Abstract views: 600
Studi Analisa Synchronous Rectifier Buck Converter Untuk Meningkatkan Efisiensi Daya Pada Sistem Photovoltaic
Abstract
Abstrak-Sel surya atau sering disebut energi photovoltaic (PV) adalah energi yang saat ini popular karena PV yang sangat ramah terhadap lingkungan tetapi dalam pengaplikasiannya secara konvensional sistem PV juga banyak mengalami kekurangan terutama terhadap efisiensi daya keluaran yang terbilang rendah. salah satu faktor yang mempengaruhi terhadap efisiensi daya sistem PV yaitu pada bagian konverter DC-DC. Konverter DC-DC sebagai sumber daya sistem elektronika yang dapat ditingkatkan efisiensinya dengan cara mengganti dioda pada konverter DC dengan MOSFET. MOSFET dapat mengurangi rugi konduksi pada konverter DC sinkron karena rugi daya konduksi MOSFET lebih rendah dari rugi daya konduksi dioda. Pada perancangan ini sistem PV menggunakan konverter DC tipe penurun tegangan dengan menggunakan metode MOSFET sinkronisasi untuk menggantikan dioda pada rangkaian konverter DC tipe penurun tegangan atau juga disebut dengan synchronous buck converter. Kemudian akan dibandingkan efisiensi daya antara synchronous buck converter dengan non-synchronous buck converter. Pada sistem PV menggunakan synchronous buck converter efisiensi daya yang dihasilkan ialah mencapai 98.47%, sedangkan efisiensi daya yang dihasilkan pada non-synchronous buck converter disistem PV lebih rendah ialah 96.81%. Ini membuktikan bahwa rugi konduksi pada MOSFET lebih rendah dibandingkan dengan rugi konduksi pada dioda.
Keywords
DC Konverter, Efisiensi daya, MOSFET sinkronisasi, Photovoltaic (PV)
References
[1] D. C. Ratna Saxena, Anmol, "DC-DC Buck-Converter for MPPT of PV System," International Journal of Emerging Technology and Advanced Engineering, 2014.
[2] S. Nema, R. Nema, G. Agnihotri, "Matlab/simulink based study of photovoltaic cells/modules/array and their experimental verification," International journal of Energy and Environment, Vol. 1, Vo. 3, 2010.
[3] A. Babgei, "Rancang Bangun Maximum Power Point Tracker (MPPT) pada Panel Surya Dengan menggunakan metode Fuzzy," Institut Teknologi Sepuluh November, Surabaya, 2012.
[4] I. Astra, S. Sidopekso, "Studi rancang bangun Solar Charge Controller dengan indikator arus, tegangan dan suhu berbasis mikrokontroler ATMEGA 8535," Universitas Negeri Jakarta. Jakarta. Spektra: Jurnal Fisika dan Aplikasinya, Vol. 11, No. 21, 2011.
[5] M. Hasan, Umar, Ir. Dedid Cahya H., "Sistem Charging Baterai Pada Perancangan Mobil Hybrid," Politeknik Negeri Surabaya.
[6] E. Taddy, V. Lazarescu, "Modeling and simulation of a switch-mode synchronous buck converter," Politehnica University of Bucharest, Bucharest, Romania, 2014.
[7] A. Darmawansyah, "Analisis Dan Perancangan Integrated Circuit AND OR Invert (AOI) Berteknologi HCMOS (High Speed Complementary Metal Oxide Semiconductor)."
[8] D. M. Sutedjo, Zaenal Efendi, "Rancang Bangun Modul DC-DC Converter Dengan Pengendali PI," Politeknik Elektronika Negri Surabaya.
[9] L. Shi, W. Jia, "Mode-Selectable High-Efficiency Low-Quiescent-Current Synchronous buck DC–DC Converter," Xidian Univesity, 2013.
[10] N. Joseph, "Control and Analysis of Synchronous Rectifier Buck Converter for ZVS in Light Load Condition," Dayananda Sagar Academy of Technology and Management, 2013.
[11] M. Romadhon, T. Andromeda, M. Facta, "Konverter Arus Searah Ke Arus Searah Tipe Penaik Tegangan Dengan Dan Tanpa Mosfet Sinkronisasi," Departemen Teknik Elektro, Universitas Diponegoro Semarang, 2016.
Refbacks
There are currently no refbacks.
Supervised by: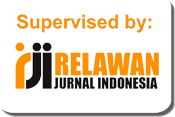 Statistic:

Creative Commons License Kinetik : Game Technology, Information System, Computer Network, Computing, Electronics, and Control by http://kinetik.umm.ac.id is licensed under a Creative Commons Attribution-ShareAlike 4.0 International License.