Abstract views: 1542
Rancang Bangun Sistem Monitoring Listrik Prabayar Dengan Menggunakan Arduino Uno
Abstract
Abstrak
Kebutuhan akan listrik akan terus meningkat dari tahun ke tahun, hal ini dikarenakan pembuatan produk yang menggunakan listrik sebagai energi nya juga gencar dikeluarkan oleh produsen sehingga kebutuhan akan listrik sudah menjadi kebutuhan yang sangat vital untuk masing-masing individu. Saat ini di negara kita telah dikembangkan listrik prabayar disamping listrik pasca bayar yang telah berjalan, fungsi dari listrik prabayar ini adalah untuk dapat mengontrol penggunaan dari listrik itu sendiri. Namun, penggunaan listrik prabayar tidak sepenuhnya digunakan secara optimal oleh pelanggan, dikarenakan pelanggan tidak mengetahui beban dari alat listrik yang digunakan sehingga tidak dapat melakukan kontrol dari pulsa listrik yang dibeli. Dari permasalahan itu peneliti mengusulkan untuk membuat suatu alat kontrol dengan menggunakan arduino uno sehingga pemilik dapat mengontrol penggunaan listriknya secara real time. Board Arduino berfungsi sebagai sistem kontrol pengambilan data, sebelum data tersebut di olah pada server. Terdapat sistem sensor berfungsi untuk pengambilan data ampere yaitu sensor AC712-20A dan modul relay sebagai saklar elektrik berfungsi untuk memutus daya listrik ketika pulsa tidak mencukupi. Dari hasil pengujian yang telah dilakukan, terdapat kesalahan pengukuran rata-rata sensor ACS712-20A dengan multitester sebesar 26%, sedangkan untuk pengukuran billing listrik prabayar terdapat kesalahan sebesar 6%.
Keywords
Listrik prabayar, Arduino Uno, Sensor ACS712-20A, Relay
References
[1] Zipperer, Adam, et al. "Electric energy management in the smart home: Perspectives on enabling technologies and consumer behavior." Proceedings of the IEEE 101.11 (2013): 2397-2408.
[2] Ageng Pidaksa. Wattmeter Digital AC Berbasis Mikrokontroller ATMEGA8, Yogyakarta: UNY, 2011.
[3] Budiman, Agus. "Sistem Monitoring dan Proteksi Watt Meter Multi Channel Listrik Rumah Tangga." SENTIA 2014-Politeknik Negeri Malang.
Refbacks
There are currently no refbacks.
Supervised by: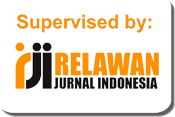 Statistic:

Creative Commons License Kinetik : Game Technology, Information System, Computer Network, Computing, Electronics, and Control by http://kinetik.umm.ac.id is licensed under a Creative Commons Attribution-ShareAlike 4.0 International License.