Sistem Pakar Berbasis Web Dengan Metode Forward Chaining Dalam Mendiagnosa Dini Penyakit Tuberkulosis Di Jawa Timur
Abstract views: 1867
Sistem Pakar Berbasis Web Dengan Metode Forward Chaining Dalam Mendiagnosa Dini Penyakit Tuberkulosis Di Jawa Timur
Abstract
Tuberkulosis adalah suatu penyakit menular berbahaya yang disebabkan oleh kelompok Mycobacterium, yaitu Microbacterium Tuberkulosis. Setiap pasien Tuberkulosis dapat menularkan penyakitnya pada orang lain yang berada di sekelilingnya dan atau yang berhubungan erat dengannya. Karena masih banyak orang yang tidak mengetahui gejala-gejala penyakit suatu sistem pakar mendiagnosis secara dini penyakit tuberkulosis menggunakan metode forward chaining berbasis web, dapat dikenali dengan melihat gejala-gejala dengan mendeteksi penyakit sejak dini, dilakukan pencegahan terhadap penyakit tuberkulosis. Diagnosis sistem pakar, memiliki nilai keakuratan 93,333 % dan nilai eror 6,667 % untuk uji coba pada 15 pasien. Sehingga dapat disimpulkan bahwa sistem pakar cukup layak untuk digunakan oleh pasien dalam mendiagnosis dini pada penyakit tuberkulosis.
Keywords
Tuberkulosis, Forward Chaining, Sistem Pakar, Web
References
[1] Tim Pengembangan Modul.,Pelatihan penanggulangan Tuberkulosis bagi Kader Komunitas, Penerbit Recipient TB Aisyiyah, Jakarta 2009.
[2] Winarko, Edi, (2006), Perancangan Database Dengan Power Desaigner 6.32, Prestasi Pustakarya, Jakarta.
[3] Purwono, Edi, (2007), Sistem Analisis, ANDI, Yogyakarta.
[4] Azzolini, John, (2004), Introduction to System Engineering Practices, ANDI Offset, Yogyakarta.
[5] Ignizio J.P., Introduction To Expert Sistem: The Development and Implementation Of Rule-Based Expert System, McGraw-Hill International Editions, 1991.
[6] Girratano, Riley, (1994), Expert Sistem : Principles and Programming, PWS Publising Company, Boston.
Refbacks
There are currently no refbacks.
Supervised by: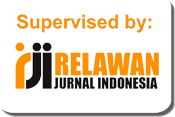 Statistic:

Creative Commons License Kinetik : Game Technology, Information System, Computer Network, Computing, Electronics, and Control by http://kinetik.umm.ac.id is licensed under a Creative Commons Attribution-ShareAlike 4.0 International License.