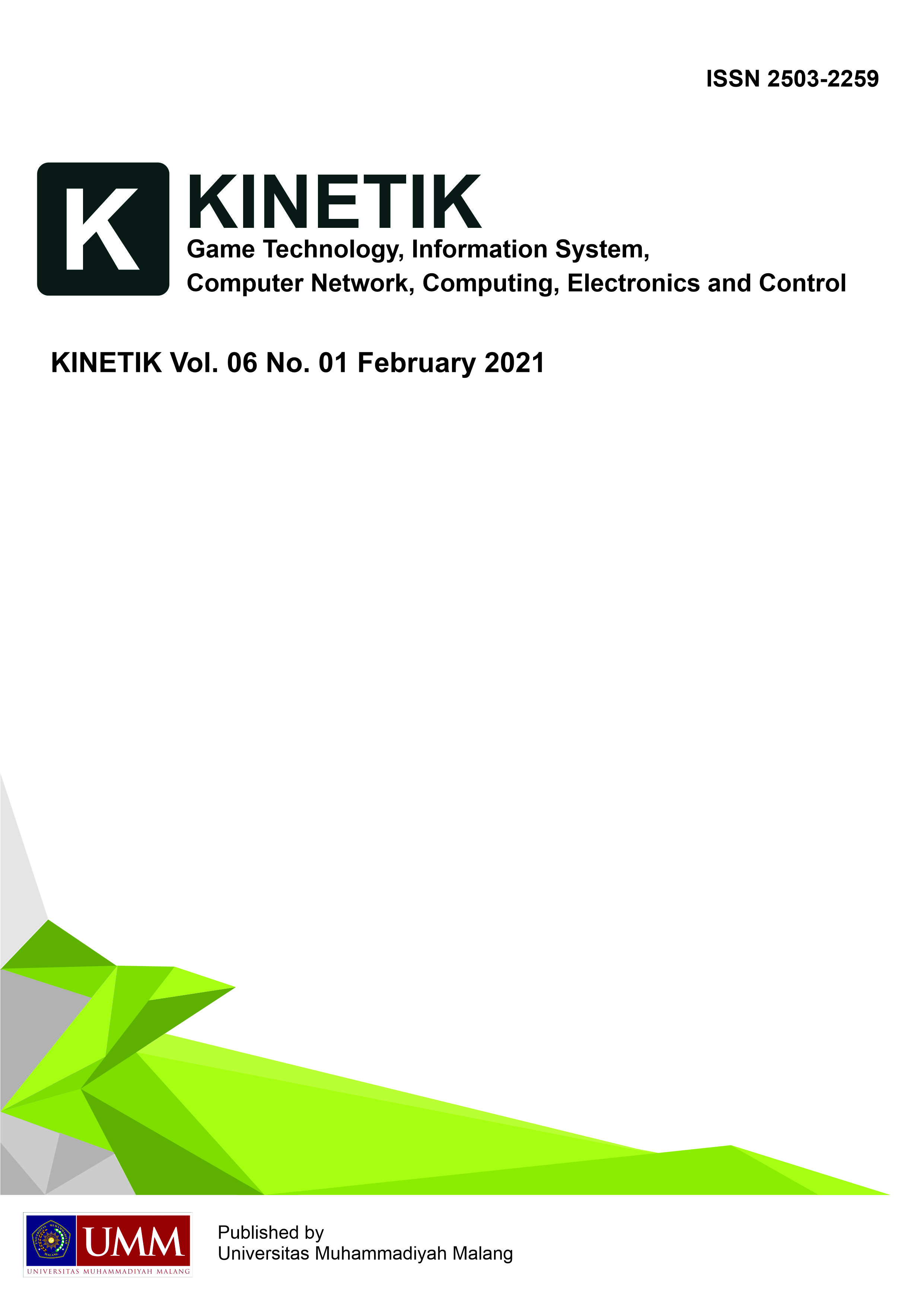 A Non-Blind Robust and Impercept Watermarking Using Discrete Cosine Transform and Discrete Wavelet Transform
Corresponding Author(s) : Heru Agus Santoso
heru.agus.santoso@dsn.dinus.ac.id
Kinetik: Game Technology, Information System, Computer Network, Computing, Electronics, and Control, Vol. 6, No. 1, February 2021

Abstract
Non-blind watermarking is a form of watermarking with a watermark image validation process that requires a host image. The use of the transform domain is more robust and imperceptible. The transform domain method is resistant to various forms of digital image attacks. In this study, Discrete Cosine Transform (DCT) and Discrete Wavelet Transform (DWT) were selected as watermark insertion algorithms. DCT is faster and more resistant to attacks, especially in image compression attacks, but has lower imperceptibility than DWT. DWT is also known to be resistant to noise attacks, filtering, blurring, cropping, and has high imperceptibility depending on the sub-band selection but is not resistant to image compression attacks. Based on each algorithm's advantages and disadvantages, there is an opportunity to combine it to analyze and compare the insertion results with DCT and DWT itself. To test the results of imperceptibility, we used the Peak Signal to Noise Ratio (PSNR), while to test the robustness, we used Cross-Correlation (CC) and Bit Error Ratio (BER). Without attacks, the PSNR on the proposed method can reach 71 dB. The CC value without attack can reach a perfect value of 1 and BER = 0. The highest attack test result is CC = 1 on the filtering attack. From the various tests we have conducted, it has been proven that the DCT-DWT is more imperceptive and robust than previous studies
Keywords
Non-Blind Watermarking
Discrete Cosine Transform
Discrete Wavelet Transform
Attacks
Peak Signal to Noise Ratio
Rachmawanto, E. H., & Santoso, H. A. (2021). A Non-Blind Robust and Impercept Watermarking Using Discrete Cosine Transform and Discrete Wavelet Transform. Kinetik: Game Technology, Information System, Computer Network, Computing, Electronics, and Control, 6(1), 69-76. https://doi.org/10.22219/kinetik.v6i1.1132
Download Citation
Endnote/Zotero/Mendeley (RIS)
BibTeX
References
Sari, Wellia Shinta and Christy Atika Sari. 2019. "A High Result in Wavelet Watermarking Using Singular Value Decomposition." Kinetik: Game Technology, Information System, Computer Network, Computing, Electronics, and Control 4(3):269–76. https://doi.org/10.22219/kinetik.v4i3.729
Abraham, Jobin and Varghese Paul. 2019. "An Imperceptible Spatial Domain Color Image Watermarking Scheme." Journal of King Saud University - Computer and Information Sciences 31(1):125–33. https://doi.org/10.1016/j.jksuci.2016.12.004
Ali, Musrrat and Chang Wook Ahn. 2018. "An Optimal Image Watermarking Approach through Cuckoo Search Algorithm in Wavelet Domain." International Journal of System Assurance Engineering and Management 9(3):602–11. https://doi.org/10.1007/s13198-014-0288-4
Alotaibi, Reem A. and Lamiaa A. Elrefaei. 2019. "Applied Computing and Informatics Text-Image Watermarking Based on Integer Wavelet Transform ( IWT ) and Discrete Cosine Transform ( DCT)." Applied Computing and Informatics 15(2):191–202. https://doi.org/10.1016/j.aci.2018.06.003
Ariatmanto, Dhani and Ferda Ernawan. 2020. "Adaptive Scaling Factors Based on the Impact of Selected DCT Coefficients for Image Watermarking." Journal of King Saud University - Computer and Information Sciences (xxxx). https://doi.org/10.1016/j.jksuci.2020.02.005
Arrasyid, Adli Azhar, De Rosal Ignatius Moses Setiadi, M. Arief Soeleman, Christy Atika Sari, and Eko Hari Rachmawanto. 2018. "Image Watermarking Using Triple Transform (DCT- DWT-SVD) to Improve Copyright Protection Performance." Pp. 522–26 in 2018 International Seminar on Research of Information Technology and Intelligent Systems (ISRITI). Yogyakarta: IEEE. https://doi.org/10.1109/ISRITI.2018.8864461
Arya, Ranjan Kumar, Shalu Singh, and Ravi Saharan. 2015. "A Secure Non-Blind Block Based Digital Image Watermarking Technique Using DWT and DCT." Pp. 2042–48 in 2015 International Conference on Advances in Computing, Communications and Informatics (ICACCI). IEEE. https://doi.org/10.1109/ICACCI.2015.7275917
Bamatraf, Abdullah, Rosziati Ibrahim, and Salleh Najib, Mohd. 2011. "A New Digital Watermarking Algoritm Using Combination of Leasr Significant Bit (LSB) and Inverse Bit." Journal of Computing 3(4):1–8.
Susanto, A., D. R. I. M. Setiadi, C. A. Sari, and E. H. Rachmawanto. 2017. "Hybrid Method Using HWT-DCT for Image Watermarking." in 2017 5th International Conference on Cyber and IT Service Management, CITSM 2017. https://doi.org/10.1109/CITSM.2017.8089252
Susanto, Ajib, DRIM Setiadi, Eko Hari Rachmawanto, and Christy Atika Sari. 2018. "A Robust Non-Blind Image Watermarking Method Using 2-Level HWT-DCT." Pp. 304–8 in 2018 International Seminar on Application for Technology of Information and Communication. IEEE. https://doi.org/10.1109/ISEMANTIC.2018.8549712
Bansal, Dimple and Manish Mathuria. 2017. "Color Image Dual Watermarking Using DCT and DWT Combine Approach." Pp. 630–34 in 2017 International Conference on Trends in Electronics and Informatics (ICEI). Vols. 2018-Janua. IEEE. https://doi.org/10.1109/ICOEI.2017.8300779
Bei, Yi-Lin, Sai Qiao, Ming-Xia Liu, Xiao-Rong Zhu, and Qian Zhang. 2018. "A Color Image Watermarking Scheme Against Geometric Rotation Attacks Based on HVS and DCT-DWT." Pp. 343–47 in 2018 International Conference on Security, Pattern Analysis, and Cybernetics (SPAC). IEEE. https://doi.org/10.1109/SPAC46244.2018.8965467
Lepik, Ülo. 2007. "Numerical Solution of Evolution Equations by the Haar Wavelet Method." Applied Mathematics and Computation 185(1):695–704. https://doi.org/10.1016/j.amc.2006.07.077
Hajjaji, Mohamed Ali, Mohamed Gafsi, Abdessalem Ben Abdelali, and Abdellatif Mtibaa. 2019. "FPGA Implementation of Digital Images Watermarking System Based on Discrete Haar Wavelet Transform." Security and Communication Networks 2019(ii). https://doi.org/10.1155/2019/1294267
Heidari, Morteza, Nader Karimi, and Shadrokh Samavi. 2016. "A Hybrid DCT-SVD Based Image Watermarking Algorithm." Pp. 838–43 in 2016 24th Iranian Conference on Electrical Engineering (ICEE). IEEE. https://doi.org/10.1109/IranianCEE.2016.7585636
Chowdhuri, Partha, Biswapati Jana, and Debasis Giri. 2018. "Secured Steganographic Scheme for Highly Compressed Color Image Using Weighted Matrix through DCT." International Journal of Computers and Applications 7074:1–12. https://doi.org/10.1080/1206212X.2018.1505024
Das, Nilima R., Satyananda C. Rai, and Ajit K. Nayak. 2018. "Performance Analysis of Heuristic Optimization Algorithms for Demand Side Energy Scheduling with TOU Pricing." International Journal of Engineering and Technology(UAE) 7(4):3835–42. http://dx.doi.org/10.14419/ijet.v7i4.18306
Deb, Kaushik, Md Sajib Al-Seraj, Md Moshiul Hoque, and Md Iqbal Hasan Sarkar. 2012. "Combined DWT-DCT Based Digital Image Watermarking Technique for Copyright Protection." Pp. 458–61 in 2012 7th International Conference on Electrical and Computer Engineering. IEEE. https://doi.org/10.1109/ICECE.2012.6471586
Ernawan, Ferda and Muhammad Nomani Kabir. 2018. "A Robust Image Watermarking Technique With an Optimal DCT-Psychovisual Threshold." IEEE Access 6(c):20464–80. https://doi.org/10.1109/ACCESS.2018.2819424
Sverdlov, Alexander, Scott Dexter, and Ahmet M. Eskicioglu. 2005. "Robust DCT-SVD Domain Image Watermarking for Copyright Protection: Embedding Data in All Frequencies." Pp. 4–8 in 13 th European Signal Processing Conference (EUSIPCO 2005).
Hamidi, Mohamed, Mohamed El Haziti, Hocine Cherifi, and Mohammed El Hassouni. 2018. "Hybrid Blind Robust Image Watermarking Technique Based on DFT-DCT and Arnold Transform." Multimedia Tools and Applications 77(20):27181–214. https://doi.org/10.1007/s11042-018-5913-9
Mitra, Diksha Sang and Abhishek Kumar Saxena. 2018. "DCT DWT SVD Image Watermarking." International Research Journal of Engineering and Technology (IRJET) e-ISSN: 5(7):198–205.
Kapre Bhagyashri S and M. Y. Joshi. 2010. "Robust Image Watermarking Based on Singular Value Decomposition and Discrete Wavelet Transform." Pp. 337–41 in 2010 3rd International Conference on Computer Science and Information Technology. IEEE. https://doi.org/10.1109/ICCSIT.2010.5563757
Huang, Ying, Hu Guan, Baoning Niu, and Shuwu Zhang. 2018. "A Spread-Spectrum Watermarking Scheme with Adaptive Embedding Strength and PSNR Guarantee." Pp. 82–87 in 2018 12th IEEE International Conference on Anti-counterfeiting, Security, and Identification (ASID). Vols. 2018-Novem. IEEE. https://doi.org/10.1109/ICASID.2018.8693132
Santhi, V., N. Rekha, and S. Tharini. 2008. "A Hybrid Block Based Watermarking Algorithm Using DWT-DCT-SVD Techniques for Color Images." Pp. 1–7 in 2008 International Conference on Computing, Communication and Networking. IEEE. https://doi.org/10.1109/ICCCNET.2008.4907259
Jane, O., E. Elbasi, and Iik H.G. 2014. "Hybrid Non-Blind Watermarking Based on DWT and SVD." Journal of Applied Research and Technology 12(4):750–61. https://doi.org/10.1016/S1665-6423(14)70091-4
Dubolia, Rakhi, Roop Singh, Sarita Singh Bhadoria, and Rekha Gupta. 2011. "Digital Image Watermarking by Using Discrete Wavelet Transform and Discrete Cosine Transform and Comparison Based on PSNR." Pp. 593–96 in 2011 International Conference on Communication Systems and Network Technologies. IEEE. https://doi.org/10.1109/CSNT.2011.127
Na, Wang, Wang Yunjin, and Li Xia. 2009. "A Novel Robust Watermarking Algorithm Based on DWT and DCT." Pp. 437–41 in 2009 International Conference on Computational Intelligence and Security. IEEE. https://doi.org/10.1109/CIS.2009.135
Singh, Siddharth, Vivek Singh Rathore, Rajiv Singh, and Manoj Kumar Singh. 2017. "Hybrid Semi-Blind Image Watermarking in Redundant Wavelet Domain." Multimedia Tools and Applications 76(18):19113–37. https://doi.org/10.1007/s11042-017-4570-8
References
Sari, Wellia Shinta and Christy Atika Sari. 2019. "A High Result in Wavelet Watermarking Using Singular Value Decomposition." Kinetik: Game Technology, Information System, Computer Network, Computing, Electronics, and Control 4(3):269–76. https://doi.org/10.22219/kinetik.v4i3.729
Abraham, Jobin and Varghese Paul. 2019. "An Imperceptible Spatial Domain Color Image Watermarking Scheme." Journal of King Saud University - Computer and Information Sciences 31(1):125–33. https://doi.org/10.1016/j.jksuci.2016.12.004
Ali, Musrrat and Chang Wook Ahn. 2018. "An Optimal Image Watermarking Approach through Cuckoo Search Algorithm in Wavelet Domain." International Journal of System Assurance Engineering and Management 9(3):602–11. https://doi.org/10.1007/s13198-014-0288-4
Alotaibi, Reem A. and Lamiaa A. Elrefaei. 2019. "Applied Computing and Informatics Text-Image Watermarking Based on Integer Wavelet Transform ( IWT ) and Discrete Cosine Transform ( DCT)." Applied Computing and Informatics 15(2):191–202. https://doi.org/10.1016/j.aci.2018.06.003
Ariatmanto, Dhani and Ferda Ernawan. 2020. "Adaptive Scaling Factors Based on the Impact of Selected DCT Coefficients for Image Watermarking." Journal of King Saud University - Computer and Information Sciences (xxxx). https://doi.org/10.1016/j.jksuci.2020.02.005
Arrasyid, Adli Azhar, De Rosal Ignatius Moses Setiadi, M. Arief Soeleman, Christy Atika Sari, and Eko Hari Rachmawanto. 2018. "Image Watermarking Using Triple Transform (DCT- DWT-SVD) to Improve Copyright Protection Performance." Pp. 522–26 in 2018 International Seminar on Research of Information Technology and Intelligent Systems (ISRITI). Yogyakarta: IEEE. https://doi.org/10.1109/ISRITI.2018.8864461
Arya, Ranjan Kumar, Shalu Singh, and Ravi Saharan. 2015. "A Secure Non-Blind Block Based Digital Image Watermarking Technique Using DWT and DCT." Pp. 2042–48 in 2015 International Conference on Advances in Computing, Communications and Informatics (ICACCI). IEEE. https://doi.org/10.1109/ICACCI.2015.7275917
Bamatraf, Abdullah, Rosziati Ibrahim, and Salleh Najib, Mohd. 2011. "A New Digital Watermarking Algoritm Using Combination of Leasr Significant Bit (LSB) and Inverse Bit." Journal of Computing 3(4):1–8.
Susanto, A., D. R. I. M. Setiadi, C. A. Sari, and E. H. Rachmawanto. 2017. "Hybrid Method Using HWT-DCT for Image Watermarking." in 2017 5th International Conference on Cyber and IT Service Management, CITSM 2017. https://doi.org/10.1109/CITSM.2017.8089252
Susanto, Ajib, DRIM Setiadi, Eko Hari Rachmawanto, and Christy Atika Sari. 2018. "A Robust Non-Blind Image Watermarking Method Using 2-Level HWT-DCT." Pp. 304–8 in 2018 International Seminar on Application for Technology of Information and Communication. IEEE. https://doi.org/10.1109/ISEMANTIC.2018.8549712
Bansal, Dimple and Manish Mathuria. 2017. "Color Image Dual Watermarking Using DCT and DWT Combine Approach." Pp. 630–34 in 2017 International Conference on Trends in Electronics and Informatics (ICEI). Vols. 2018-Janua. IEEE. https://doi.org/10.1109/ICOEI.2017.8300779
Bei, Yi-Lin, Sai Qiao, Ming-Xia Liu, Xiao-Rong Zhu, and Qian Zhang. 2018. "A Color Image Watermarking Scheme Against Geometric Rotation Attacks Based on HVS and DCT-DWT." Pp. 343–47 in 2018 International Conference on Security, Pattern Analysis, and Cybernetics (SPAC). IEEE. https://doi.org/10.1109/SPAC46244.2018.8965467
Lepik, Ülo. 2007. "Numerical Solution of Evolution Equations by the Haar Wavelet Method." Applied Mathematics and Computation 185(1):695–704. https://doi.org/10.1016/j.amc.2006.07.077
Hajjaji, Mohamed Ali, Mohamed Gafsi, Abdessalem Ben Abdelali, and Abdellatif Mtibaa. 2019. "FPGA Implementation of Digital Images Watermarking System Based on Discrete Haar Wavelet Transform." Security and Communication Networks 2019(ii). https://doi.org/10.1155/2019/1294267
Heidari, Morteza, Nader Karimi, and Shadrokh Samavi. 2016. "A Hybrid DCT-SVD Based Image Watermarking Algorithm." Pp. 838–43 in 2016 24th Iranian Conference on Electrical Engineering (ICEE). IEEE. https://doi.org/10.1109/IranianCEE.2016.7585636
Chowdhuri, Partha, Biswapati Jana, and Debasis Giri. 2018. "Secured Steganographic Scheme for Highly Compressed Color Image Using Weighted Matrix through DCT." International Journal of Computers and Applications 7074:1–12. https://doi.org/10.1080/1206212X.2018.1505024
Das, Nilima R., Satyananda C. Rai, and Ajit K. Nayak. 2018. "Performance Analysis of Heuristic Optimization Algorithms for Demand Side Energy Scheduling with TOU Pricing." International Journal of Engineering and Technology(UAE) 7(4):3835–42. http://dx.doi.org/10.14419/ijet.v7i4.18306
Deb, Kaushik, Md Sajib Al-Seraj, Md Moshiul Hoque, and Md Iqbal Hasan Sarkar. 2012. "Combined DWT-DCT Based Digital Image Watermarking Technique for Copyright Protection." Pp. 458–61 in 2012 7th International Conference on Electrical and Computer Engineering. IEEE. https://doi.org/10.1109/ICECE.2012.6471586
Ernawan, Ferda and Muhammad Nomani Kabir. 2018. "A Robust Image Watermarking Technique With an Optimal DCT-Psychovisual Threshold." IEEE Access 6(c):20464–80. https://doi.org/10.1109/ACCESS.2018.2819424
Sverdlov, Alexander, Scott Dexter, and Ahmet M. Eskicioglu. 2005. "Robust DCT-SVD Domain Image Watermarking for Copyright Protection: Embedding Data in All Frequencies." Pp. 4–8 in 13 th European Signal Processing Conference (EUSIPCO 2005).
Hamidi, Mohamed, Mohamed El Haziti, Hocine Cherifi, and Mohammed El Hassouni. 2018. "Hybrid Blind Robust Image Watermarking Technique Based on DFT-DCT and Arnold Transform." Multimedia Tools and Applications 77(20):27181–214. https://doi.org/10.1007/s11042-018-5913-9
Mitra, Diksha Sang and Abhishek Kumar Saxena. 2018. "DCT DWT SVD Image Watermarking." International Research Journal of Engineering and Technology (IRJET) e-ISSN: 5(7):198–205.
Kapre Bhagyashri S and M. Y. Joshi. 2010. "Robust Image Watermarking Based on Singular Value Decomposition and Discrete Wavelet Transform." Pp. 337–41 in 2010 3rd International Conference on Computer Science and Information Technology. IEEE. https://doi.org/10.1109/ICCSIT.2010.5563757
Huang, Ying, Hu Guan, Baoning Niu, and Shuwu Zhang. 2018. "A Spread-Spectrum Watermarking Scheme with Adaptive Embedding Strength and PSNR Guarantee." Pp. 82–87 in 2018 12th IEEE International Conference on Anti-counterfeiting, Security, and Identification (ASID). Vols. 2018-Novem. IEEE. https://doi.org/10.1109/ICASID.2018.8693132
Santhi, V., N. Rekha, and S. Tharini. 2008. "A Hybrid Block Based Watermarking Algorithm Using DWT-DCT-SVD Techniques for Color Images." Pp. 1–7 in 2008 International Conference on Computing, Communication and Networking. IEEE. https://doi.org/10.1109/ICCCNET.2008.4907259
Jane, O., E. Elbasi, and Iik H.G. 2014. "Hybrid Non-Blind Watermarking Based on DWT and SVD." Journal of Applied Research and Technology 12(4):750–61. https://doi.org/10.1016/S1665-6423(14)70091-4
Dubolia, Rakhi, Roop Singh, Sarita Singh Bhadoria, and Rekha Gupta. 2011. "Digital Image Watermarking by Using Discrete Wavelet Transform and Discrete Cosine Transform and Comparison Based on PSNR." Pp. 593–96 in 2011 International Conference on Communication Systems and Network Technologies. IEEE. https://doi.org/10.1109/CSNT.2011.127
Na, Wang, Wang Yunjin, and Li Xia. 2009. "A Novel Robust Watermarking Algorithm Based on DWT and DCT." Pp. 437–41 in 2009 International Conference on Computational Intelligence and Security. IEEE. https://doi.org/10.1109/CIS.2009.135
Singh, Siddharth, Vivek Singh Rathore, Rajiv Singh, and Manoj Kumar Singh. 2017. "Hybrid Semi-Blind Image Watermarking in Redundant Wavelet Domain." Multimedia Tools and Applications 76(18):19113–37. https://doi.org/10.1007/s11042-017-4570-8