Prototype Sistem Multi-Telemetri Wireless Untuk Mengukur Suhu Udara Berbasis Mikrokontroler ESP8266 Pada Greenhouse
Abstract views: 1921
Prototype Sistem Multi-Telemetri Wireless Untuk Mengukur Suhu Udara Berbasis Mikrokontroler ESP8266 Pada Greenhouse
Abstract
Telemetri wireless adalah proses pengukuran parameter suatu obyek yang hasil pengukurannya dikirimkan ke tempat lain melalui proses pengiriman data tanpa menggunakan kabel (wireless), sedangkan multi telemetri adalah gabungan dari beberapa telemeteri itu sendiri. Penelitian ini merancang prototype sistem multi-telemetri wireless untuk mengukur suhu udara dan kelembaban udara pada greenhouse dengan menggunakan sensor DHT11 dan data hasil dari pembacaan sensor dikirim dengan menggunakan modul WiFi ESP8266 ke server dengan menggunakan protokol HTTP. Dalam penelitian ini diuji nilai sensor DHT11, heap memory ESP8266, jarak atau jangkauan ESP8266, uji coba data missing handling dan kestabilan jaringan. Berdasarkan hasil pengujian diketahui bahwa sensor DHT11 memiliki rata-rata kesalahan ukur suhu 0.92 oC dan kelembaban 3.1%. Modul WiFi ESP8266 mampu menyimpan dan mengirim buffer hingga 100 data dan dapat melakukan pengiriman dalam jangkauan 50 meter. Data missing handling memanfaatkan buffer untuk menyimpan data selama server sedang tidak dapat diakses oleh sensor node agar data tidak hillang. Kestabilan pengiriman data atau koneksi sensor node dengan server dipengaruhi oleh jumlah access point yang sedang berkomunikasi disekitar access point server dengan menggunakan channel yang sama.
Keywords
Telemetri, Wireless, ESP8266, DHT11, Greenhouse
References
[1] H. Zhang, H. Xue, "Design of Greenhouse Environmental Parameters Prediction System," in International Conference on Computer and Computing Technologies in Agriculture. Springer, 2010, Pp. 502–507.
[2] D. Risqiwati, "Rancang Bangun Sistem Monitoring Listrik Prabayar dengan Menggunakan Arduino Uno," KINETIK, Vol. 1, No. 2, Pp. 47–54, 2016.
[3] A. Maarif, "System Monitoring And Controlling Water Nutrition aquaponics Using Arduino Uno Based Web Server," KINETIK, Vol. 1, No. 1, 2016.
[4] K. . Bhoomika, K. N. Muralidhara, "Secured Smart Healthcare Monitoring System Based on IOT," International Journal on Recent and Innovation Trends in Computing and Communication, Vol. 3, No. 7, 2015.
[5] D. Chaudhary, S. Nayse, "Application of wireless sensor networks for greenhouse parameter control in precision agriculture," International Journal of Wireless & Mobile Networks (IJWMN), Vol. 3, No. 1, Pp. 140–149, 2011.
[6] M. S. Munir, "Rancangan Smart Greenhouse dengan Teknologi Mobile untuk Efisiensi Tenaga, Biaya dan Waktu dalam Pengelolaan Tanaman," Universitas Pembangunan Nasional Veteran, 2010.
[7] S. Sawidin, O. Melo, T. Marsela, "Monitoring Kontrol Greenhouse untuk Budidaya Tanaman Bunga Krisan dengan LabView," Jurnal Nasional Teknik Elektro dan Teknik Informatika, Vol. 4, No. 4, 2015.
[8] I. Pambudi, Y. Nugraha, M. Djamal, "Sistem Telemetri Pemantau Gempa Menggunakan Jaringan GSM," Jurnal Otomasi, Kontrol, dan Instrumentasi ITB, Vol. 4, No. 1, Pp. 47, 2012.
[9] M. Wastharini, D. Arseno, I. Hidayat, "Perancangan dan Implementasi Sistem Telemetri Suhu Ruangan Berbasis Mikrokontroler," Universitas Telkom Bandung, 2010.
[10] H. Susanto, R. Pramana, "Perancangan Sistem Telemetri Wireless untuk Mengukur Suhu dan Kelembaban Berbasis Arduino Uno R3 ATmega328p dan XBee Pro," Universitas Maritim Raja Ali Tanjung Pinang, 2013.
Refbacks
There are currently no refbacks.
Supervised by: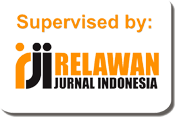 Statistic:

Creative Commons License Kinetik : Game Technology, Information System, Computer Network, Computing, Electronics, and Control by http://kinetik.umm.ac.id is licensed under a Creative Commons Attribution-ShareAlike 4.0 International License.