Abstract views: 179
Transient Analysis And Optimization Of A Knuckle Joint
Abstract
 Knuckle joint is used to provide movement between rods while transferring force along the pin axis. It has a range of applications such as in robotics, reciprocating engine valve, fulcrum, and suspension bridge. Various cases have been reported of failures in a Knuckle joint due to poor design and strenuous loading condition. For a guaranteed safety of the structure, analysis and optimization of a knuckle joint are required. A cheaper and qualitative production of the knuckle joint can be achieved in a short period through optimization. In this paper, Finite Element Method (FEM) using ANSYS workbench was used to carry out topology optimization, and transient analysis of a knuckle joint where its dynamic response is observed and its weight is reduced through optimization under certain design loading conditions. Weight reduction of 20%, 35%, and 50% using a structural steel material under a static loading of 1000N. The optimization process successfully identifies the mass that needs to be removed to minimize both weight and cost without compromising its reliability and durability. The structural design was carried out using SolidWorks software and then imported into the ANSYS workbench for analysis. By the results obtained, it is proved that ANSYS software can be employed by production companies to minimize material wastages and maximize profits while at the same time maintaining product quality and reliability
Keywords
ANSYS, FEA, Joint, Knuckle Joint, Transient
References
[1] A. R. Jha , R.Jaiswal , A. Karki , A. Basnet , S. Jaiswal , P. Jaiswal , and D Rajgadia, "Design and Finite Element Analysis of Knuckle Joint Using CATIA and ANSYS Workbench", (International Journal of Research in Mechanical Engineering, Vol. 4, No. 3, Pp. 01-05, 2016.
[2] Rao, P. Ganesh, and J. B. Bhaskara, "Structural Static Analysis of Knuckle Joint", (International Journal and mag-azine of Engineering, Technology, Management and re-search, Pp. 656-666, 2016.
[3] M.P. Sharma, D.S. Mevawala, H. Joshi , and D.A. Patel DA, "Static Analysis of Steering Knuckle and Its Shape Optimization", (IOSR Journal of Mechanical and Civil Engineering, Pp. 34-38. 2016
[4] N. Patil, S. M. Sable, and K. Munde K, "Static Structural Analysis of knuckle joint", (International Journal of advanced technology in Engineering and Science, Pp 119-125, 2016.
[5] V. Bhandari , "Design of Machine Elements" (Third Edition), New Delhi, Delhi, India: Tata McGraw-Hill Education Pvt. Ltd, 2012.
[6] S. Yadav , R.K. Mishra, V. Ansari , and S.B. Lal , "Design and Analysis of Steering Knuckle Component", (Inter-national Journal of Engineering Research & Technology (IJERT), Vol. 5, No. 4, Pp. 457-463, 2016.
[7] G. Pantazopoulos, A. Sampani, and E. tsagaridis, "Torsional failure of a knuckle joint of a universal steel coupling system during operation- A case study", (Engi-neering Failure Analysis, Vol. 14, No. 1, Pp. 73-84, 2007.
[8] G. Pantazopoulos and S. Antoniou, "Wear related failure of nitrocarburized steels: some microstrucral and morphological observations", (Journal of Failure Analysis Prevention, Vol. 4, No. 6, Pp. 51-57, 2004.
[9] P. Psyllaki, G. Kefalonikas, G. Pantazopoulos, S. Antonious, and J. Sideris, "Microstructure and tribological behaviour of liquid nitrocarburised tools steels", Surface and Coatings Technology, Vol. 162, No. 1, Pp. 67-78. 2002.
[10] M. Aisha and I. H. Shanono, "Strength analysis and structural optimisation of an l-shaped bracket", (Nigerian Journal of Technological Research, Vol. 13, No 2, Pp. 14-19, 2018.
[11] J.K. Gupta and R.S. khurmi, "A textbook of machine design, New Delhi: Eurasia Publishing House (PVT.) LTD., 2005.
[12] C. Xiaolin and Y. Liu, "Finite Element Modeling and Simulation with ANSYS Workbench, London NewYork: CRC Press, 2014.
[13] W.Guanzhu, Z. Guoqing, Y. Jiancheng, G. Youping, G. Wei, and Z. Hengcai, "Modal analysis of high-speed spindle based on ANSYS, in 2012 7th International Conference on Computer Science & Education (ICCSE), Mel-bourne, 2012, VIC, Australia.
[14] B. S. Kim, S. H. Lee, M. G. Lee, J. Ni, J. Y. Song, and C. W. Lee, "A comparative study on damage detection in speed-up and the coast-down process of grinding spindle-typed rotor-bearing system", (Journal of Materials Processing Technology, Vols. 187-188, Pp. 30-36, 2007.
[15] G.H Jang, S. H. Lee, M.S. Jung, "Free vibration analysis of a spinning flexible disk- spindle system supported by a ball bearing and flexible shaft using the finite element method and substructure synthesis", (Journal of Sound and Vibration, Vol. 251, No. 1, Pp. 59-78, 2002.
[16] E.J. Barbero, 'Finite Element Analysis of Composite Materials Using ANSYS, US: CRC Press, 2013.
[17] A Muhammad and I. H. Shanono," Finite Element Analysis of a Base Stand Using Different Materials", Science, Technology and Arts Research Journal 10-18, 2018.
[18] B. Talikoti, S.N. Kurbet, V.V Kuppast, and M. Arvind M, "Harmonic analysis of a two-cylinder crankshaft using ANSYS", in 2016 International Conference on Inventive Computation Technologies (ICICT), 2016 Coimbatore, India.
[19] A. Muhammad and I.H. Shanono, Structural Analysis of a Knuckle Joint using different materials, in 1st International Civil Engineering Conference (ICEC 2018), 2018, Nigeria.
Refbacks
There are currently no refbacks.
Supervised by: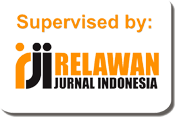 Statistic:

Creative Commons License Kinetik : Game Technology, Information System, Computer Network, Computing, Electronics, and Control by http://kinetik.umm.ac.id is licensed under a Creative Commons Attribution-ShareAlike 4.0 International License.