Adaptive Non Playable Character in RPG Game Using Logarithmic Learning For Generalized Classifier Neural Network (L-GCNN)
Abstract views: 356
Adaptive Non Playable Character in RPG Game Using Logarithmic Learning For Generalized Classifier Neural Network (L-GCNN)
Abstract
Non-playable Character (NPC) is one of the important characters in the game. An autonomous and adaptive NPC can adjust actions with player actions and environmental conditions. To determine the actions of the NPC, the previous researchers used the Neural Network method but there were weaknesses, namely the action produced was not in accordance with the desired so the accuracy was not good. This study overcomes the problem of poor accuracy by using the Logarithmic Learning for Generalized Classifier Neural Network (L-GCNN) method with 6 input parameters, NPC health, distance from players, other NPCs involved, attack power, number of NPCs and NPC levels. While the output is to attack itself, attack in groups and move away. For testing, this study was tested on RPG games. From the results of the experiments conducted, it shows that the L-GCNN method has better accuracy than the 3 methods compared to 7% better than NN and SVM and 8% better than RBFNN because in the L-GCNN method there is an encapsulation process that is data have the same class will. Whereas the L-GCNN training time is 30% longer than the NN method because on L-GCNN one neuron consists of one data where there are fewer NNs in the hidden layer.
Keywords
L-GCNN, NPC adaptif, aksi NPC
References
[1] R. E. Leigh, T. Morelli, S. J. Louis, M. Nicolescu, and C. Miles, "Finding Attack Strategies for Predator Swarms Using Genetic Algorithms," 2005 IEEE Congr. Evol. Comput., vol. 3, pp. 2422–2428, 2005.
[2] F. Nugroho, S. Mardi, and M. Hariadi, "Simulasi Permasalahan Multiobyektif Berbasis Agen Pada Kasus Economic dan Emission Dispatch ( EED ) Dengan Metode Neuro Fuzzy System di Power Plant," pp. 1–8, 2011.
[3] A. Nareyek, "Intelligent Agents for Computer Games," Comput. Games Second Int. Conf. CG 2000, 2002.
[4] W. Jatiningsih, E. Yuniarno, and M. Hariadi, "Autonomous Agent Based NPC Swarm Attack Behaviour Using Bee Colony Algorithm," no. ii, pp. 1–5, 2014.
[5] S. Asmiatun, L. Hermawan, and T. Daryatni, "Strategi Menyerang Jarak Dekat Menggunakan Klasifikasi Bayesian Pada NPC ( Non Player Character )," vol. 2013, no. November, pp. 351–357, 2013.
[6] S. Mardi, S. Nugroho, Y. M. Arif, M. Hariadi, and M. H. Purnomo, "PERILAKU TAKTIS UNTUK NON - PLAYER CHARACTERS DI GAME PEPERANGAN MENIRU STRATEGI MANUSIA MENGGUNAKAN FUZZY," vol. 6, no. 1, pp. 55–64.
[7] P. N. Jember, "FUZZY COORDINATOR BASED INTELLIGENT AGENTS FOR TEAM COORDINATION BEHAVIOR IN CLOSE," vol. 51, no. 2, pp. 317–323, 2013.
[8] "Creating Adaptive Game AI in a Real Time Continuous Environment using Neural Networks," no. March, 2009.
[9] B. Melis and M. Avci, "Generalized classifier neural network," Neural Networks, vol. 39, pp. 18–26, 2013.
[10] B. Melis and M. Avci, "Logarithmic learning for generalized classifier neural network," Neural Networks, vol. 60, pp. 133–140, 2014.
Refbacks
There are currently no refbacks.
Supervised by: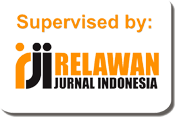 Statistic:

Creative Commons License Kinetik : Game Technology, Information System, Computer Network, Computing, Electronics, and Control by http://kinetik.umm.ac.id is licensed under a Creative Commons Attribution-ShareAlike 4.0 International License.