Gamification And GDLC (Game Development Life Cycle) Application For Designing The Sumbawa Folklore Game "The Legend Of Tanjung Menangis (Crying Cape)"
Abstract views: 169
Gamification And GDLC (Game Development Life Cycle) Application For Designing The Sumbawa Folklore Game "The Legend Of Tanjung Menangis (Crying Cape)"
Abstract
Sumbawa is popularly known as one of the regions in Indonesia, having a well- known folklore among the Sumbawa people, entitled the legend of Tanjung Menangis (Crying Cape). However, Tanjung Menangis is commonly recognized for its beauty than the stories contained. Therefore, a research is carried out by developing a game that is employed as a tool to introduce the story of Tanjung Menangis Legend as effort to preserve the original story of the mainland Sumbawa. The media game is chosen due to its favoured technology by children and adolescent as the target users of this research. This study applies Game Development Life Cycle (GDLC) method in the development stage which consists of several stages includinng: pre-production, production, testing, and post-production by adding an element of gamification. The game is tested on students at Labangka Elementary School in Sumbawa district in an age range of 10-15 years. After playing the game, the majority of respondents states that students gain knowledge about the Legend of Tanjung Menangis as reported from the results of the t- test with a probability value of 7.369x10-41, which is far below the value of α = 0.05. This result means that there was an increase in user knowledge of application. The test results also showed that all respondents agreed that the game of The Legend of Tanjung Menangis was used as one of the media used to introduce the story of the original Sumbawa people. In addition, the testing results as conducted with playtesting and gameflow test achieved good grades, with a range of values 4.5-4.81 of the seven elements tested, including: Concentration, Challenge, Player Skills, Control, Clear Goals, Feedback, and Immersion.
Keywords
The Legend of Tanjung Menangis, Sumbawa, folklore, Gamification and Game Development Life Cycle
References
[1] Buyut, K. Manglayang, J. Buyut, and K. Palasara, "Analysis of the Legend of Dewi Bungur Sari, Jawara Paledang Opat, and Buyut Kutan Manglayang Kunta Palasara Jeung Buyut in Ujuberung Bandung Community (Structure, Story Context, Creation Process, and Function)," 2009.
[2] I. E. Sulistya and F. Maspiyanti, " Desktop-based Game of The Legend of Origin of Lake Toba," J. TAM (Technology Accept. Model., vol. 9, no. 2, pp. 30–35, 2018.
[3] Pragmatic Value and its Relevance, " The Legend of Crying Cape: People's Receptions, Pragmatic Values, and Their Relevance to the Development of Literary Teaching Materials,"2002.
[4] U. Fatimah, "Analysis and Design of Android Games 'Visit Indonesia' as a Learning Media to Introduce Tourism and Indonesian Culture,"Yogyakarta, 2014.
[5] H. A. F. Puji Handayani Putri, and M. Suyanto, "Designing a Game Design Document of Serious Game on Traditional Engkel Sleman in Yogyakarta Games," in the National Seminar on Informatics 2015, 2015, pp. 1–7.
[6] R. N. Cahyar, "Making 3D Eradication of Corruptor Education Games Using Unity 3D," Surakarta, 2015.
[7] M. S. Khairy, D. Herumurti, and I. Kuswardayan, "Analysis of the Effect of Using Educational Games on Mastery of Foreign Language Vocabulary with Case Study of Arabic Language Educational Games," Khazanah Inform., vol. II, no. 2, pp. 42–48, 2016.
[8] D. H. Dwi Krisbiantoro, "Math Games As An Effort to Increase Understanding of Mathematics in Primary School Students," J. Telemat., vol. 10, no. 2, pp. 1–11.
[9] Wahyu Pratama, "Adventure Game on Pandora's Box Mystery," J. Telemat., vol. 7, no. 2, pp. 13–31, 2014.
[10] M. S. Khairy, D. Herumurti, and I. Kuswardayan, "Analysis of the Effect of Using Educational Games on Mastery of Foreign Language Vocabulary with Case Study on Arabic Language Educational Games," vol. II, no. 2, pp. 42–48, 2016.
[11] G. Kiryakova, N. Angelova, and L. Yordanova, "Gamifcation in Education," 2013.
[12] E. Farquhar Buzzard, "Gamification and The Future of Education," 2016.
[13] B. Morschheuser, K. Werder, J. Hamari, and J. Abe, "How to Gamify? A Method for Designing Gamification," Proc. 50th Hawaii Int. Conf. Syst. Sci. (HICSS 2017), pp. 1298–1307, 2017.
[14] Y. W. Rido Ramadan, "Game Development Life Cycle Guidelines," in International Conference on Advanced Computer Science and Information Systems, 2013.
[15] P. Nguyen, "Game Production and Role of Game Producer," SAVONIA UNIVERSITY, 2014.
[16] R. Hunicke, M. LeBlanc, and R. Zubek, "MDA: A Formal Approach to Game Design and Game Research," Work. Challenges Game AI, pp. 1–4, 2004.
[17] P. Sweetser and P. Wyeth, "GameFlow: A Model for Evaluating Player Enjoyment in Games," vol. 3, no. 3, pp. 1–24, 2005.
[18] T. Fullerton, Game Design Workshop: A Playcentric Approach to Creating Innovative Games, Second Ed. Morgan Kaufmann, 2008.
[19] I. Effendy, "The Effect of Pre-test and Post-test on Learning Outcomes of the Education and Training Field of HDW.DEV.100.2.A in Students of State Vocational High School 2 Lubuk Basung," VOLT-Journal of Science. Educator. Electrical Engineering, vol. 1, no. 2, 2016.
[20] M. B. Nendya, S. Gandang, and R. G. Santosa, "Mapping Non-Playable Character Behavior in Role Playing Game Based by Using the Finite State Machine Method," Electronics and Industrial Engineering Journal, vol. 1, no. 2, pp. 185–202, 2015.
Refbacks
There are currently no refbacks.
Supervised by: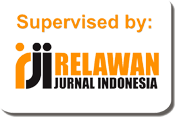 Statistic:

Creative Commons License Kinetik : Game Technology, Information System, Computer Network, Computing, Electronics, and Control by http://kinetik.umm.ac.id is licensed under a Creative Commons Attribution-ShareAlike 4.0 International License.