Abstract views: 413
Game Development to Introduce Indonesian Traditional Weapons using MDA Framework
Abstract
It is unfortunate that more and more youths are less concerned and are not interested in acquainting and studying Indonesian traditional culture, especially concerning on traditional Indonesian weapons. This fact is noticed from data as collected from several bookstores including online bookstores which the number of books on traditional weapons originating from abroad as published in Indonesia has a significant comparison compared to books on traditional weapons from Indonesia, in a stagerring 1:7 comparisson. Therefore, it is necessary to develop a media that can generate interest in couriosly learning about Indonesian culture, especially when introducing traditional Indonesian weapons. This research was conducted to develop a media in the form of android games that can be applied for the introduction of Indonesian culture, especially traditional weapons. The employed method of game development is the MDA Framework. Evaluation was carried out by using the Playtesting Evaluation and Gameflow methods. The evaluation results related to the concentration of players during game playing presents that the game has given a lot of encouragement to players to play games in several aspects of: game graphics, game sound, game stories, gameplay, simple interfaces, and completion of missions and main objectives regarding traditional Indonesian weapons, trigerring the player interest in playing this game and to maintain their focus throughout the game. In overal, the evaluation results using playtesting evaluation and Gameflow test depicts that a rating above average with an overall rating of 3.61 (72.18%) and the game Mystical Weapon of Nusantara can be accommodated as a medium for the introduction of traditional Indonesian weapons as indicated by the probability of a t-test of 1,169x10-19 which is far below the value of α = 0.05. Thus, it is concluded that there is an improvement in user knowledge, as well as the value of respondent answer showing above the average, which is 3.83 (76.67%).
Keywords
Action Adventure Platformer, MDA Framework, Play Testing Evaluation, Gameflow Test, and Indonesian Traditional Weapons
References
[1] Mikhael Gewati, "Indonesia's Reading Interest is in the 60th Rank of the World," Kompas.com, 2016. [Online]. Available: https://edukasi.kompas.com/read/2016/08/29/07175131/minat.baca.indonesia.ada.di.urutan.ke-60.dunia. [Accessed: 02-Nov-2018].
[2] N. Iswari, "Why Literacy in Indonesia Is Very Low," CNN Indonesia, 2017. [Online]. Available: https://student.cnnindonesia.com/edukasi/20170910122629-445-240706/mengapa-literasi-di-indonesia-sangat-terendah/. [Accessed: 02-Nov-2018].
[3] Yudha Manggala P Putra, "Reading Interest in Indonesia Is Still Low," Republika.co.id, 2018. [Online]. Available: https://republika.co.id/berita/pendidikan/eduaction/18/02/20/p4gflk284-minat-baca-di-indonesia-disebut-masih-rendah. [Accessed: 02-Nov-2018].
[4] P. S. Pratiwi, "Indonesian People Interest in Reading Is Still Low," CNN Indonesia, 2018. [Online]. Available: https://www.cnnindonesia.com/gaya-hidup/20180326160959-282-285982/minat-baca-masyarakat-indonesia-masih-rendah. [Accessed: 02-Nov-2018].
[5] Moh Nadlir, "Per Day, the Average Indonesian Only Reads a Book for Less Than an Hour," Kompas.com, 2018. [Online]. Available: https://nasional.kompas.com/read/2018/03/26/14432641/per-hari-rata-rata-orang-indonesia-hanya-baca-buku-kurang-dari-sejam. [Accessed: 02-Nov-2018].
[6] L. Johnson, R. Smith, A. Levine, and K. Haywood, The 2010 horizon report: Australia-New Zealand edition, vol. 2010. 2010.
[7] N. I. Widiastuti and I. Setiawan, "Building a Walisongo Historical Educational Game," J. Ilm. Komput. and Inform., vol. 1, no. 2, pp. 41–48, 2012.
[8] M. A. Yoannita, "Design of a History Application for Walisongo (Sunan Kalijaga) with Unity 3D," Palembang, no. x, pp. 1–10, 2014.
[9] F. Y. Al Irsyadi and Y. S. Nugroho, "Educational Game for Limbs Recognition and Number Recognition for Children with Special Needs (Kinships) based on Kinect," Pros. SNATIF, vol. 2, pp. 1–8, 2015.
[10] A. V. Vitianingsih, "Educational Games as Learning Media for Early Childhood Education," Inform, vol. 1, no. 1, pp. 1–8, 2016.
[11] T. H. Apperley, "Genre and Game Studies: Toward a Critical Approach to Video Game Genres," Simul. Gaming, vol. 37, no. 1, pp. 6–23, 2006.
[12] "2018 Essential Facts About The Computer and Video Game Industry," Entertainment Software Association, Long. Beach. Calif, 2018.
[13] "2017 Essential Facts About The Computer and Video Game Industry," Entertainment Software Association, Long. Beach. Calif, 2017.
[14] M. Fayad and D. C. Schmidt, "Object-oriented application frameworks," Commun. ACM, vol. 40, no. 10, pp. 32–38, 1997.
[15] D. Riehle, "Framwork Design - A Role Modeling Approach," Swiss Federal Institute of Technology Zurich, 2000.
[16] R. Hunicke, M. LeBlanc, and R. Zubek, "MDA: A Formal Approach to Game Design and Game Research," Work. Challenges Game AI, pp. 1–4, 2004.
[17] G. Zichermann and C. Cunningham, Gamification By Design. 2011.
[18] O. Beza, "Gamification: How Games Can Level up Our Everyday Life," Univ. Ambsterdan, Holanda., no. June, pp. 1–21, 2011.
[19] S. Rogers, Level Up!: The Guide to Great Video Game Design, First Edit. The Atrium, Southern Gate, Chichester, West Sussex, PO19 8SQ, United Kingdom: John Wiley & Sons, Ltd Registered, 2010.
[20] E. Adams, Fundamentals of Game Design, Third Edit. United States of America: New Riders, 2014.
[21] T. Fullerton, Game Design Workshop: A Playcentric Approach to Creating Innovative Games, Second Edi. Morgan Kaufmann, 2008.
[22] P. Sweetser and P. Wyeth, "GameFlow: A Model for Evaluating Player Enjoyment in Games," Comput. Entertain., vol. 3, no. 3, pp. 3–3, 2005.
Refbacks
There are currently no refbacks.
Supervised by: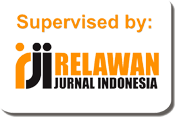 Statistic:

Creative Commons License Kinetik : Game Technology, Information System, Computer Network, Computing, Electronics, and Control by http://kinetik.umm.ac.id is licensed under a Creative Commons Attribution-ShareAlike 4.0 International License.