Abstract views: 1013
IT Governance Audit with COBIT 5 Framework on DSS Domain
Abstract
Information technology in organizations plays an important role for the continuity of their current business processes. Almost every organization already has information technology and dependence on their information technology. With the existence of information technology, it can help business process in the organization runs smoothly, and according to desired by every organization. But not infrequently the information technology that has been operating has problems that are very annoying and hinder the business process of the organization. Problems that exist in this company is at the time of maintenance and custom or repair process undertaken by the company. With the existence of the problem, the writer wanted to audit the existing governance in companies that have problems regarding aspects of information technology delivery. The author uses the COBIT 5 framework on the DSS domain (Deliver, Service, and Support) and focuses on the sub domains of DSS01 Manage Operations, DSS02 Manage Service Requests and Incidents, DSS03 Manage Problems, and DSS06 Manage Business Process Controls. The assessment method used is a capability model consisting of five capability levels. Based on the audit of information technology governance conducted by researchers using COBIT 5, then the conclusion of this study is the average capability level of the overall process obtained most of the process has reached level 1 performed process.
Keywords
COBIT 5, Business Process, Capability Level
References
[1] N. Aulia and S. Handayaningsih, "Pembuatan Model Tata Kelola It Untuk Proses Akademik Menggunakan Cobit 4 . 1 (Studi Kasus : Universitas XYZ)," J. Sarj. Tek. Informatiika, vol. 1, no. 1, pp. 287–296, 2013.
[2] Wella, "Audit Sistem Informasi Menggunakan Cobit 5 . 0 Domain DSS pada," Ultim. InfoSys, vol. VII, no. 1, pp. 38–44, 2016.
[3] F. Ajismanto, "Analisis Domain Proses COBIT Framework 5 Pada Sistem Informasi Worksheet ( Studi Kasus : Perguruan Tinggi STMIK , Politeknik Palcomtech ) Domain Analysis of COBIT Process Framework 5 In Worksheet Information System ( Case Study : STMIK College , Palcomtec," cogito Smart, vol. 3, no. 2, 2017.
[4] E. Ekowansyah, Y. H. Chrisnanto, Puspita, and N. Sabrina, "Audit Sistem Informasi Akademik Menggunakan COBIT 5 di Universitas Jenderal Achmad Yani," Semin. Nas. Komput. dan Inform., vol. 2017, pp. 201–206, 2017.
[5] R. E. Putri, "Model Penilaian Kapabilitas Proses Optimasi Resiko Ti Berdasarkan Cobit 5," Semin. Nas. Inform. 2015, vol. 2015, no. November, pp. 252–258, 2015.
[6] J. F. Andry, "Audit of IT Governance Based on COBIT 5 Assessments: A Case Study," J. Teknol. dan Sist. Inf., vol. 2, no. 2, pp. 27–34, 2016.
[7] T. S. Agoan, H. F. Wowor, and S. Karouw, "Analisa Tingkat Kematangan Teknologi Informasi Pada Dinas Komunikasi Dan Informatika Kota Manado Menggunakan Framework COBIT 5 Domain Evaluate, Deirect, Monitor ( EDM ) dan Deliver, Service, and Support ( DSS )," J. Tek. Inform., vol. 10, no. 1, pp. 1–9, 2017.
[8] J. F. Andry, "Process Capability Model Based on COBIT 5 Assessments (Case Study)," Jatisi, vol. 3, no. 1, 2016.
[9] Isaca, COBIT 5: Process Assessment Model (PAM): Using COBIT 5. 2013.
[10] J. F. Andry and K. Christianto, Audit Menggunakan COBIT 4.1 dan COBIT 5 dengan Case Study. Yogyakarta: TEKNOSAIN, 2018.
Refbacks
There are currently no refbacks.
Supervised by: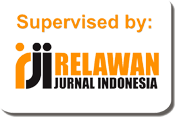 Statistic:

Creative Commons License Kinetik : Game Technology, Information System, Computer Network, Computing, Electronics, and Control by http://kinetik.umm.ac.id is licensed under a Creative Commons Attribution-ShareAlike 4.0 International License.