Application of a Radio Frequency Identification System for Supporting the Performance of Motorcycle Parking in Narotama University
Abstract views: 660
Application of a Radio Frequency Identification System for Supporting the Performance of Motorcycle Parking in Narotama University
Abstract
The increasing number of motorcycles in Indonesia creates enormous problems because of the hectic involved; thus, parking management becomes a big challenge. The applicability and the possibility of a Radio Frequency Identification (RFID) were studied in finding the solution of this pressing issue. The study was conducted at Narotama University which is located in Surabaya, East Java. This study was expected to find solutions related to provide parking facilities using RFID method to identify motorcycles. The goal of this study is to determine the number of motorcycle vehicles which is being parked electronically to facilitate the management in organizing motorcycle in parking facilities. Hence, the management can arrange the requirement of parking system in the future. From the study, it can be concluded that RFID can make the process faster and easier so that the line can significantly be reduced and provide more user friendly system because the system will give the information about parking availability. Moreover, this RFID parking system and the software can be more reliable and secured due to more complete and accurate data in the registration process required to the users.
Keywords
Motorcycle, Parking, Radio Frequency Identification.
References
[1] Machsus, Harnen Sulistio, A. Wicaksono, and L. Djakfar, "The Effect of Access Points on Motorcycle Accident Rates on Surabaya Arterial Roads", Australian Journal of Basic and Applied Sciences, Vol. 8, No. 10, Pp. 38–43, 2014.
[2] "Student Database of Narotama," 2016.
[3] [Online]. Available: http://forlap.dikti.go.id/perguruantinggi/search. [Accessed: 09-Oct-2016].
[4] S. Wiwoho Mudjanarko, H. Sulistio, L. Djakfar, and A. Wicaksono, "Behaviour Model of Motor Cycle User in Selecting Parking Location (Case study in Surabaya City of Indonesia)," Journal of Basic and Applied Scientific Research, Vol. 3, No. 7, Pp. 842–846, 2013.
[5] A. D. Utama, "Design of Parking System for Four-wheeled Vehicles Using RFID Technology in Universitas Sebelas Maret," Universitas Sebelah Maret, 2010.
[6] S. W. Mudjanarko, T. P, S. P. S, and D. Harmanto, "Parking Using Model with Simulation Program in Surabaya City," in Procceding of Narotama Internasional Conceference on Civil Engineering, 2015.
[7] P. A. Suthanaya, "Analysis of Characteristics and Parking Area Requirement at the Shopping Malls in Badung Regency," Scientific Journal of Civil Engineering, Vol. 14, No. 1, 2010.
[8] A. Bajpai, "RFID-Based Secured Parking Management System," IJSTE - International Journal of Science Technology & Engineering, Vol. 1, No. 11, 2015.
[9] E. Palantei et al., "Development of Smart Parking System with Wed Integration," 2013.
[10] S. C. Hanche, P. Munot, P. Bagal, K. Sonawane, and P. Pise, "Automated Vehicle Parking System using RFID," ITSI Transactions on Electrical and Electronics Engineering, Vol. 1, No. 2, Pp. 2320–8945, 2013.
[11] A. Dennis, B. H. Wixom, and D. P. Tegarden, "Systems Analysis and Design with UML Version 2.0: an Object-Oriented Approach," United States of America: J. Wiley & Sons, Inc, 2005.
Refbacks
There are currently no refbacks.
Supervised by: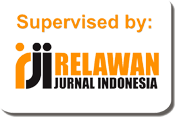 Statistic:

Creative Commons License Kinetik : Game Technology, Information System, Computer Network, Computing, Electronics, and Control by http://kinetik.umm.ac.id is licensed under a Creative Commons Attribution-ShareAlike 4.0 International License.