Perancangan Chatbot Pusat Informasi Mahasiswa Menggunakan AIML Sebagai Virtual Assistant Berbasis Web
Abstract views: 1317
Perancangan Chatbot Pusat Informasi Mahasiswa Menggunakan AIML Sebagai Virtual Assistant Berbasis Web
Abstract
Seiring perkembangan teknologi dan keinginan program studi teknik informatika untuk mengembangkan layanan terhadap mahasiswa, informasi yang diperoleh melalui sistem informasi dan chatting yang dilakukan antara pengguna dengan pihak Virtual Assistant. Penelitian ini bertujuan untuk membangun chatbot yang mempunyai tujuan sebagai Virtual Assistant yang memberikan informasi kepada mahasiswa melalui data yang tersimpan pada sistem yang berisi informasi mengenai program studi teknik informatika dan penambahan pengetahuan baru apabila data yang tersimpan tidak ditemukan. Pada perancangan dan implementasi perangkat lunak ini menghasilkan sebuah prototipe Chatbot yang dibangun dengan menggunakan mesin ALICE sebagai penerjemah AIML. AIML ini menyebabkan Chatbot dapat mengintegrasikan input yang diterima berupa input text. Sehingga akan dihasilkan percakapan antara pengguna dan program. Dengan pemanfaatan chatbot yang telah dilengkapi dengan informasi berupa audio, membuat pengguna dapat lebih mudah mendapatkan informasi yang berasal dari database yang diinformasikan kepada pengguna. Dari hasil pengujian verifikasi, pengujian validitas dan pengujian prototipe yang dilakukan sistem berjalan dengan baik sesuai dengan perencanaan.
Keywords
Chatbot , ALICE, AIML, Virtual Assistant, sistem
References
[1] Vrizilia, Arindra. Pengembangan ALICE Sebagai CHATBOT Pakar Jaringan Komputer Menggunakan Supervise (Direct Teaching) dan Unsupervice Learning (Summary Base Knowledge Menggunakan Metode TF-IDF). Malang: Universitas Muhammadiyah Malang, 2016.
[2] Shawar, Bayan Abu, and Eric Atwell. A comparison between ALICE and Elizabeth chatbot systems. University of Leeds, School of Computing research report. 2002.
[3] Fatnuriyah Martin. Perancangan I_Bot (Sistem Informasi Chatterbot) Menggunakan AIML Berbasis Program O Untuk Akses Sistem Informasi PMDFT, Universitas Brawijaya. 2012.
[4] Mahdiyah, Evfi, and Yanti Andriyani. "Analisa Algoritma Pemahaman Kalimat Pada ALICE ChatBot Dengan Menggunakan Artificial Intelligence Markup Language (AIML)." Seminar Nasional dan Rapat Tahunan (SEMIRATA), 2013; Vol 1.1.
[5] Indah, Lusy. Implementasi Mesin ALICE untuk Informasi Penerimaan Mahasiswa Baru (PMB). Malang: Universitas Muhammadiyah Malang; 2016.
Refbacks
There are currently no refbacks.
Supervised by: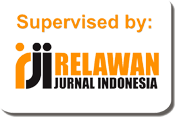 Statistic:

Creative Commons License Kinetik : Game Technology, Information System, Computer Network, Computing, Electronics, and Control by http://kinetik.umm.ac.id is licensed under a Creative Commons Attribution-ShareAlike 4.0 International License.