Rancang Bangun Penstabil Tegangan Pada Pembangkit Termoelektrik Skala Pico Berbasis Boost Converter
Abstract
Kurangnya pemanfaatan modul termoelektrik sebagai pembangkit listrik di masyarakat sering diakibatkan energi yang dihasilkan cenderung tidak stabil.  Sehingga diperlukan sebuah rangkaian penstabil tegangan yang dapat menaik dan menurunkan tegangan menjadi tegangan tertentu. Tujuan proyek ini adalah merancang sebuah rangkaian penstabil tegangan DC skala pico berbasis boost converter. Pengujian dilakukan dengan 3 tahap, yaitu pengujian rangkaian penstabil menggunakan sumber adaptor yang mempunyai tegangan masukan 3-9 V, pengujian kinerja pembangkit termoelektrik pada beberapa ∆T tertentu dan pengujian rangkaian penstabil menggunakan sumber termoelektrik dengan ∆T yang sama dengan pengujian sebelumnya. Hasil pengujian pertama, saat diberikan tegangan masukan 3 hingga 9 V maka menghasilkan tegangan keluaran 5,07 hingga 5,08 V sehingga memiliki persentase ketepatan 98,55% terhadap tegangan 5 V yang diharapkan. Pada pengujian kedua, yaitu saat ∆T bernilai 30, 50 dan 70 °C  menghasilkan tegangan keluaran 2,5, 3,04 dan 3,39 V. Sementara pada pengujian ketiga dengan ∆T yang sama menghasilkan tegangan keluaran 5,08 hingga 5,09 V. Namun, saat ∆T bernilai 12 °C mengeluarkan tegangan 0,8 hingga 0,9 V baik pada pengujian kedua maupun ketiga, hal ini disebabkan tidak memenuhi tegangan kerja sistem penstabil yaitu 2 hingga 24 V. Hubungan antara ∆T terhadap Tegangan Keluaran (V), Arus (I) dan Daya (P) yang dihasilkan memiliki nilai R positif 0,76 hingga 1, yang berarti adanya hubungan berbanding lurus. Sehingga, semakin besar nilai ∆T maka akan berdampak pula pada semakin besarnya nilai V, I dan P yang dapat menjadi indikator kualitas pembangkit termoelektrik yang sedang diuji.
Keywords
Termoelektrik, Boost Converter
References
[1] P. Patil and P. Patil, "Review on Thermoelectric Devices," Int. Journal Of Emerging Technology And Advanced Engineering (IJETAE), Vol. 3, No. 10, Pp. 681–687, 2013.
[2] S. Khode, P. Kale, and C. Gandhile, "Review on Application of Thermoelectric Peltier Module in cooling and power generating Technology," Int. Journal Of Engineering And Technical Research (IJETR), Vol. 3, No. 1, Pp. 71–74, 2015.
[3] S. Wardoyo, R. Munarto, and V. Putra, "Rancang Bangun Data Logger Suhu Menggunakan Labview," Jurnal Ilmiah Elite Elektro, Vol. 4, No. 1, Pp. 23–29, 2013.
[4] R. Umboh, J. Wuwung, and E. Allo, "Perancangan alat pendinginan portable menggunakan elemen peltier," Universitas Sam Ratulangi, 2014.
[5] R. S. Alexander Wijaya, Pengaruh Rangkaian Seri-Paralel Sel Peltier Dan Beda Temperatur Terhadap Daya Listrik Yang Dihasilkan Sel Peltier. Universitas Brawijaya, 2015.
[6] E. Sukur, Melirik Teknologi Termoelektrik Sebagai Sumber Energi Alternatif. 2011.
[7] G. Levy, "Thermoelectric Effect Under Adiabatic Condition," Entropy Journal, Vol. 14, No. 71, 2013.
[8] I. D. . Ramdini, "Thermoelectric Generator," Indonesian Journal of Material Science, Vol. 47, No. 120, 2014.
[9] F. J. Bueche, Fisika Universitas, Edisi Kese. Jakarta: Erlangga, 2006.
[10] A. W. Ulp, Prinsip-Prinsip Konversi Energi. Jakarta: Erlangga, 1996.
Refbacks
There are currently no refbacks.
Supervised by: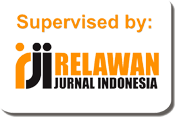 Statistic:

Creative Commons License Kinetik : Game Technology, Information System, Computer Network, Computing, Electronics, and Control by http://kinetik.umm.ac.id is licensed under a Creative Commons Attribution-ShareAlike 4.0 International License.