Analisis Tema Skripsi Mahasiswa Menggunakan Document Clustering Dengan Algoritma LINGO
Abstract
Dalam dunia teknologi informasi, banyak sekali topik yang dapat diangkat menjadi tema skripsi. Sayangnya, tidak jarang mahasiswa mengambil tema skripsi yang sama dengan tema skripsi mahasiswa angkatan sebelumnya. Karena memiliki kesamaan tema, akhirnya muncullah judul-judul skripsi yang hampir mirip. Hal ini tentu membuat penelitian di kalangan mahasiswa tidak dapat berkembang dengan cepat. Seharusnya tema yang sudah sering diangkat diganti dengan tema-tema baru yang sesuai dengan perkembangan jaman. Penelitian ini bertujuan untuk menganalisis tema-tema skripsi yang sering digunakan mahasiswa pada rentang waktu tertentu. Tema skripsi dapat dianalisis dari judul dan abstraknya. Karena data yang digunakan pada penelitian ini adalah data tekstual, maka analisis dilakukan dengan metode pada text mining, yakni document clustering menggunakan algoritma clustering LINGO. Document clustering dengan algoritma LINGO diaplikasikan menggunakan perangkat lunak Carrot2 Workbench. Hasil penelitian ini berupa klaster-klaster yang beranggotakan dokumen masukan. Setiap kelompok memiliki label. Label mencerminkan kesamaan anggota pada kelompok tersebut. Dari label klaster ini dapat dianalisis tema skripsi.
Keywords
skripsi, clustering, LINGO
References
[1] M. Hearst, "What is text mining?," Japan Advanced Institute of Science and Technology, pp. 1–3, 2003.
[2] M. W. Kogan, Jacob; Berry, Text Mining Applications and Theory, 1st ed. West Sussex: John Wiley & Sons, Ltd, 2010.
[3] K. Sridevi, R. Umarani, and V. Selvi, "An Analysis of Web Document Clustering Algorithms," vol. 1, no. 6, 2011.
[4] O. E. Zamir, "Clustering Web Documents : A Phrase-Based Method for Grouping Search Engine Results," University of Washington, 1999.
[5] S. Osi and D. Weiss, "A Concept-Driven Algorithm for Results," IEEE Intell. Syst., pp. 48–54, 2005.
[6] S. Osi, "Conceptual Clustering Using Lingo Algorithm : Evaluation on Open Directory Project Data."
[7] D. Osinski, Stanislaw; Stefanowski, Jerzy ; Weiss, "Lingo : Search Results Clustering Algorithm Based on Singular Value Decomposition," Poznan, 2005.
[8] X. Lin, Q. Zhang, and G. Wei, "The Clustering Algorithm for Chinese Texts Based on Lingo," in Eighth International Conference on Fuzzy Systems and Knowledge Discovery (FSKD), 2011, pp. 1187–1190.
[9] S. R. Vispute and P. M. A. Potey, "Automatic Text Categorization of Marathi Documents Using Clustering Technique," 2013.
[10] S. Kanthekar, A. Kadam, C. Kunte, and P. Kadam, "Generation," in International Conference on Circuits, Systems, Communication and Information Technology Applications (CSCITA), 2014, pp. 294–299.
[11] F. Z. Tala, "A Study of Stemming Effects on Information Retrieval in Bahasa Indonesia," Universiteit van Amsterdam.
[12] S. Osinski, "An algorithm for clustering of Web Search Results," Poznan University of Technology, 2003.
[13] J. Stefanowski and D. Weiss, "Carrot 2 and language properties in web search results clustering," Adv. Web Intell., vol. 1, pp. 955–955, 2003.
Refbacks
There are currently no refbacks.
Supervised by: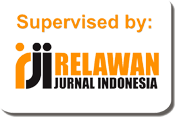 Statistic:

Creative Commons License Kinetik : Game Technology, Information System, Computer Network, Computing, Electronics, and Control by http://kinetik.umm.ac.id is licensed under a Creative Commons Attribution-ShareAlike 4.0 International License.