Sistem Berbasis Pengetahuan Untuk Pencarian Alternatif Obat Yang Berkhasiat Sama
Abstract
Pada makalah ini dipaparkan sistem berbasis pengetahuan yang mampu mencari alternatif obat bermerek yang memiliki khasiat yang sama. Sistem ini bermanfaat membantu pasien, apoteker, maupun dokter menentukan pengganti suatu obat yang tidak tersedia. Pertama-tama, pengetahuan diakuisisi dari pakar dan direpresentasikan secara formal. Dari tahap ini, yang representasi pengetahuan meliputi data lengkap obat dari katalog, serta keterkaitan antar nama indikasi, antar nama kandungan, antar nama kontraindikasi, dan antar nama efek samping. Keterkaitan ini direpresentasikan sebagai graf tak berarah. Sedangkan mekanisme pencarian adalah dengan membandingkan kedekatan tiap unsur dari keempat petunjuk penggunaan obat tersebut terhadap query pengguna. Tahap kedua adalah implementasi sistem dengan tool expert system CLIPS. Basis pengetahuan bersumber dari salah satu indeks farmakoterapi dari buku ISO (Informasi Spesialite Obat) Indonesia. Tahap terakhir adalah pengujian sistem. Sistem diujicobakan dengan berbagai query masukan, dan keluaran sistem dibandingkan dengan jawaban pakar. Dari hasilnya didapat bahwa sistem dapat menampilkan obat pengganti dengan relevansi 95%. Akan tetapi nilai relevansi ini dapat ditingkatkan dengan perbaikan basis pengetahuan.
Keywords
Sistem Berbasis Pengetahuan, Sistem Pakar, Farmakologi, Obat-obatan, CLIPS
References
[1] ISFI, Ed., Ikatan Sarjana Farmasi Indonesia. Informasi Spesialite Obat Indonesia, 2016.
[2] P. Parish, "Medicines: a guide for everybody," Penguin Books Ltd, 1987.
[3] Nabela Oktasari, "Perancangan dan Implementasi Sistem Informasi Database Obat Apotek Berbasis Web," Universitas Telkom, bandung, 2012.
[4] O. Purnamayudhia, "Aplikasi Sistem Informasi Penjualan Obat Di Apotek Dengan Menggunakan Metode Visual Basic 6," Journal of Engineering and Management in Industrial System (JEMIS), Vol. 3, No. 2, Pp. 87–94, 2015.
[5] M. Alfarisyi, S. Sulistiowati, Y. Maulana, "Rancang Bangun Sistem Informasi Perencanaan Persediaan Obat Dengan Metode Winter Pada Dinas Kesehatan Kota Surabaya," Jurnal Sistem informasi & Komputer Akuntansi ((JSIKA), Vol. 3, No. 1, Pp. 152–157, 2014.
[6] J. Nasir, K. Satoto, R. Kridalukmana, "Sistem Informasi Pengelolaan Obat Di Instalasi Farmasi Dinas Kesehatan Kabupaten Pekalongan," Jurnal Teknologi dan Sistem Komputer, Vol. 2, No. 1, Pp. 71–78, 2014.
[7] M. Minarni, S. Susanti, "Sistem Informasi Inventory Obat Pada Rumah Sakit Umum Daerah (RSUD) Padang," Jurnal Momentum, Vol. 16, No. 1, Pp. 103–111, 2016.
[8] A. Nurwulandari, P. Rosa, "Sistem Pendukung Pengambilan Keputusan Pengadaan Obat Menggunakan Model Pareto ABC dan Optimasi Kualitatif (Studi Kasus: Apotik PS)," Seminar Nasional Aplikasi Teknologi Informasi (SNATI), 2013.
[9] R. Ayu P.W, H. Tanuwijaya, "Penerapan Metode Electre Dalam Sistem Pendukung Keputusan Pemilihan Supplier Obat Dan Alat Kesehatan (Studi Kasus PT Mitra Farma Anugerah Lestari Kediri)," in Proceedings of KNASTIK, 2009.
[10] P. Jackson, "Introduction to expert systems," Addison-Wesley, 1999.
[11] F. Puppe, "Programming Languages and Expert System Tools," in Springer-Verlag Berlin Heidelberg, 1993.
Refbacks
There are currently no refbacks.
Supervised by: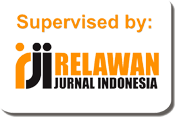 Statistic:

Creative Commons License Kinetik : Game Technology, Information System, Computer Network, Computing, Electronics, and Control by http://kinetik.umm.ac.id is licensed under a Creative Commons Attribution-ShareAlike 4.0 International License.