Rancang Bangun Game Algoritma dan Struktur Data Berbasis Role Playing Game (RPG) Sebagai Media Pembelajaran Mahasiswa Teknik Informatika Universitas Muhammadiyah Sidoarjo
Abstract views: 1200
Rancang Bangun Game Algoritma dan Struktur Data Berbasis Role Playing Game (RPG) Sebagai Media Pembelajaran Mahasiswa Teknik Informatika Universitas Muhammadiyah Sidoarjo
Abstract
Berdasarkan hasil survey yang dilakukan peneliti pada Mahasiswa/i Teknik Informatika semester 5 sebanyak 41.9% dan semester 7 sebanyak 24.2%, diperoleh hasil bahwa dari beberapa pelajaran pemrograman dasar di Jurusan Teknik Informatika, mata kuliah Algortima dan Struktur Data yang memiliki presentasi tingkat kepahaman paling rendah, yaitu 11.5% dan tingkat kesukaan/minat hanya 8.2%. Maka dari itu peneliti membuat Rancang Bangun Game Algoritma dan Struktur Data Berbasis Role Playing Game (RPG) Sebagai Media Pembelajaran Mahasiswa Teknik Informatika Universitas Muhammadiyah Sidoarjo. mayoritas mahasiswa lebih suka bermain game sambil mengungkapkan misi yaitu sebesar 85,7%. Dan didapat bahwa sebesar 61,9% koresponden mengatakan bahwa game algoritma dan struktur data "Fun with ALGOS" ini sudah dapat dikatakan sangat efektif, bagus, dan menyenangkan. Sedangkan hasil apakah game ini perlu diterapkan dalam metode pengajaran algoritma dan struktur data, didapat sebesar 66,7% mahasiswa mendukung metode ini diterapkan di seluruh Universitas. Sedangkan dari sisi Ahli Materi, sebesar 100% mengatakan bahwa perlu ada metode pengajaran baru. Dan ketika peneliti menanyakan apakah metode pembelajaran baru itu berupa game, maka kedua ahli meteri tersebut juga seluruhnya yaitu 100% mengatakan setuju, karena memberikan warna baru dalam dunia pengajaran. Namun untuk materinya sendiri masih kurang sesuai penyampaian dalam setiap misinya, maka perlu ditingkatkan kepahaman materi dengan misi yang harus diselesaikan pemain. Dari segi ahli media sendiri mengatakan bahwa sebesar 100% mengatakan bahwa game ini menarik untuk dimainkan begitu pun dari segi storyboard. Namun dari segi grafisnya seluruh ahli media yaitu 100% mengatakan cukup menarik dan dari segi karakternya masih kurang dan monoton. Sedangkan dari segi ketertarikan seluruh aspek koresponden mulai dari mahasiswa, ahli materi, dan ahli media terdapat rata–rata 3.67 (sangat baik) yang membuktikan bahwa game ini sudah membuat pemainnya tertarik untuk memainkan. Dari segi pemahamannya bernilai 4 (sangat baik) dimana dari hasil kuesioner juga membuktikan bahwa dengan memainkan game ini mereka tidak hanya mengingat kembali namun juga semakin paham dengan setiap materi yang diajarkan pada mata kuliah algoritma dan struktur data.  Dan dari segi Kesesuaian materi dengan misinya memperoleh nilai 3.33 (baik) karena banyak yang berpendapat kurang penjelasan lebih dalam lagi terkait misinya.
Keywords
Game Edukasi, Mahasiswa IT, Role Playing Game, Algoritma dan Struktur Data
References
[1] N. Alfiah, "Digitalisasi Koleksi Audio Dengan Aplikasi Software Magix Audio Cleaning Lab Dalam Pustaka Pandang Dengar (Audio Visual) Di Perpustakaan Institut Seni Indonesia Surakarta."
[2] I. Santyasa, "Pendidikan, Pembelajaran, dan Penilaian Berbasis Kompetensi Makalah," Seminar Jurusan Pendidikan Fisika IKIP Negeri Singaraja, 2003.
[3] Sutarman, Pengantar Teknologi Informasi. Jakarta: PT Bumi Aksara, 2009.
[4] M. J. Hannafin and K. L. Peck, The design, Development, and Evaluation of Instructional Software. McMillan Publishing Company, 1988.
[5] I. Widiastuti, "Pemilihan Perilaku NPC Pada Game Pertarungan Jarak Dekat Menggunakan Fuzzy Coordinator," 2012.
[6] S. . Supeno Mardi, Y. M. Arif, M. Hariadi, and M. H.P, "Perilaku Taktis Untuk Non-Player Characters di Game Peperangan Meniru Strategi Manusia Menggunakan Fuzzy Logic dan Hierarchical Finite State Machine," Jurnal Ilmiah Kursor, Vol. 6, No. 1, 2011.
[7] D. Clark, "Game and E-Learning, Sunderland: Caspian Learning," www.caspianlearning.co.uk, 2006. [Accessed: 20-May-2009].
[8] Sugiyono, Metode Penelitian Pendidikan Pendekatan Kuantitatif, Kualitatif, dan R&D. Bandung: Alfabeta, 2009.
[9] L. Dick, W., Carey and J. O. Carey, The Systematic Design of Instruction (5th ed). New York: Longman, 2001.
[10] W. Lee and D. Owens, Multimedia-based Instructional Design: Computer-Based Training, Web-Based Training, Distance Broadcast Training, Performance-Based Solutions. John Wiley & Sons, 2004.
Refbacks
There are currently no refbacks.
Supervised by: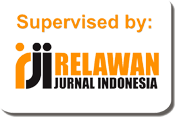 Statistic:

Creative Commons License Kinetik : Game Technology, Information System, Computer Network, Computing, Electronics, and Control by http://kinetik.umm.ac.id is licensed under a Creative Commons Attribution-ShareAlike 4.0 International License.