Abstract views: 533
Kakas Bantu Perhitungan Nilai Kopling Menggunakan Metrik Cognitive Weighted Coupling Between Object
Abstract
Konsep Object Oriented Programming (OOP) merupakan pemrograman yang dibangun dengan berpusat pada beberapa objek. Dengan konsep OOP dapat dilakukan pengukuran kualitas perangkat lunak dengan melalui kemungkinan hubungan antar beberapa objek atau kopling. Perangkat lunak yang baik adalah perangkat lunak yang memiliki desain yang baik, salah satu ciri-cirinya adalah memiliki nilai kopling yang rendah. Nilai kopling yang tinggi dapat menyebabkan desain perangkat lunak yang semakin kompleks dan buruk, sehingga akan mengakibatkan sulit untuk dipahami, terutama saat maintenance. Untuk meningkatkan kualitas perangkat lunak perlu mengontrol nilai kopling agar dapat meminimalkan kompleksitas perangkat lunak. Namun perhitungan nilai kopling secara manual pada jumlah perangkat lunak yang banyak akan membutuhkan waktu dan sumber daya yang besar. Oleh karena itu dibuatlah kakas bantu perhitungan nilai kopling menggunakan metrik Cognitive Weighted Coupling Between Object (CWCBO). Metrik CWCBO merupakan metrik kopling yang didasarkan pada bobot pemahaman untuk menghitung perbedaan jenis kopling dari berbagai peneliti. Kakas bantu tersebut dibangun dengan bahasa pemrograman utama Java, library Spoon untuk menganalisis source code, dan library JFreeChart untuk menampilkan grafik. Dari hasil pengujian akurasi sistem pada 5 program inputan berbahasa Java didapatkan akurasi sebesar 100%. Pengujian akurasi dilakukan dengan membandingkan perhitungan secara manual dan dengan sistem.
Keywords
Metrics, Coupling, Software engineering, Software Design, Software Quality
References
[1] A. Aloysius and L. Arockiam, "Coupling Complexity Metric: A Cognitive Approach," International Journal of Information Technology and Computer Science (IJITCS), Vol. 4, No. 9, Pp. 29–35, 2012.
[2] S. Misra And I. Akman, "Weighted Class Complexity: A Measure Of Complexity For Object Oriented System," Journal of Information Science and Engineering, Pp. 1689–1708, 2008.
[3] E. Lestari, Perhitungan Kualitas Desain Object-Oriented Menggunakan Matrix Similarity Based Class Cohesion (SCC) Pada Kelas Kohesi Berbasis Web. Program Teknologi Informasi Dan Ilmu Komputer, Universitas Brawijaya, 2015.
[4] A. Yadav and R. Khan, "Measuring Design Complexity: An Inherited Method Perspective," ACM SIGSOFT Software Engineering Notes, Vol. 34, No. 4, Pp. 1–5, 2009.
[5] I. Sommerville, (2011). "Software Engineering." Ninth Edition. Boston: Pearson Education, Inc.,.Stevens, W., Myers, G., & Constantine, L. (1974). "Structured Design." IBM Systems Journal.
[6] A. Yadav And R. Khan, "Complexity: A Reliability Factor," In Advance Computing Conference (IACC), Patiala, India, 2009, Pp. 2375–2378.
[7] B. V Edward, "Essays On Object-Oriented," Prentice-Hall: Berard Software.Gilbert, David. Vol.1, 2005, 1993. [Online]. Available: Http://Www.Jfree.Org/Jfreechart/. [Accessed: 22-Jul-2016].
[8] P. Coad And E. Yourdon, Object Oriented Analysis, Vol. 2. Prentice-Hall,New Jersey, 1991.
[9] C. Borysowich, "Design Principles: Coupling (Data And Otherwise)," 2007. [Online]. Available: Http://It.Toolbox.Com/Blogs/Enterprisesolutions/Design-Principles-Coupling-Data-Andotherwise-16061. [Accessed: 22-Mar-2016].
[10] R. Pawlak, M. Monperrus, And N. Petitprez, "Spoon: A Library For Implementing Analyses And Transformations Of Java Source Code," Software: Practice and Experience, 2015.
Supervised by: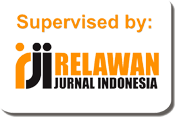 Statistic:

Creative Commons License Kinetik : Game Technology, Information System, Computer Network, Computing, Electronics, and Control by http://kinetik.umm.ac.id is licensed under a Creative Commons Attribution-ShareAlike 4.0 International License.