Desain Interaksi Pada Gamifikasi Dalam Pemesanan Taksi Online
Abstract
Aplikasi pemesanan taksi online saat ini menjadi salah satu bagian penting dalam transportasi umum khususnya taksi. Tujuan dari aplikasi ini adalah mempermudah pemesanan taksi yang dilakukan oleh masyarakat. Kemudahan penggunaan transportasi umum diharapkan dapat mengurangi penggunaan kendaraan pribadi. Sehingga akan dapat mengurangi kemacetan lalu lintas di daerah perkotaan. Tetapi mempermudah saja tidak cukup, perlu suatu pendekatan lain agar masyarakat selalu menggunakan aplikasi pemesanan tersebut setiap saat melakukan perjalanan. Salah satu aplikasi hasil penelitian dengan topik Intelligent Transportation System yaitu Semut App memasukkan pendekatan gamifikasi dalam fitur pemesanan taksi online. Desain interaksi yang digunakan dalam gamifikasi pada pemesanan taksi online bertujuan untuk memudahkan pengguna dapat berinteraksi dengan aplikasi dengan baik dalam kehidupan sehari-hari. Artikel ini mendeskripsikan tentang bagaimana bentuk desain interaksi gamifikasi pada pemesanan taksi online yang sesuai dengan kebutuhan dan dapat diterima dengan baik oleh pengguna
Keywords
desain interaksi, activity-centered design, gamifikasi, intelligent transport system, framework D6
References
[1] T. Rosenbloom and A. Shahar, "Differences Between Taxi And Nonprofessional Male Drivers In Attitudes Towards Traffic-Violation Penalties," Transportation Research Part F: Traffic Psychology and Behaviour, Vol. 10, No. 5, Pp. 428–435, 2007.
[2] Supriyanto, H. Hindersah, and A. S. Prihatmanto, "Designing Gamification for Taxi Booking System (Case study: Bandung Smart Transportation System)," in 2015 4th International Conference on Interactive Digital Media (ICIDM), 2015, Pp. 1–6.
[3] S. Deterding and D. Dixon, "Gamification : Using Game Design Elements in Non-Gaming Contexts," in CHI 2011: Conference on Human Factors in Computing Systems, 2011, Pp. 5–8.
[4] R. Harle, Activity-Centered Design: An Ecological Approach to Designing Smart Tools and Usable Systems by Geri Gay and Helene Hembrooke. MIT Press , Cambridge, MA, U.S.A. , 2004 . 144 pp., illus. Trade. ISBN: 0-262-07248-3 ., Vol. 38, No. 3. 2005.
[5] K. Werbach and D. Hunter, "For The Win: How Game Thinking Can Revolutionize Your Business." Philadelphia: Wharton Digital Press, 2012.
Refbacks
There are currently no refbacks.
Supervised by: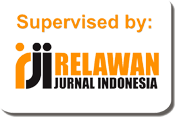 Statistic:

Creative Commons License Kinetik : Game Technology, Information System, Computer Network, Computing, Electronics, and Control by http://kinetik.umm.ac.id is licensed under a Creative Commons Attribution-ShareAlike 4.0 International License.