Voice Over Internet Protocol (VOIP) Pada Jaringan Nirkabel Berbasis Raspberry Pi
Abstract
Voice Over Internet Protocol (VoIP) merupakan satu teknologi telekomunikasi yang mampu melewatkan layanan komunikasi dalam jaringan Internet Protocol sehingga memungkinkan antar pengguna berkomunikasi suara dalam jaringan IP. Kelebihan dari VoIP ini mampu melakukan efisiensi bandwith dan biaya pengelolaan dengan memanfaatkan Raspberry Pi sebagai server VoIP. Dalam penelitian ini, VoIP dibangun pada Sistem Operasi Linux dengan aplikasi Asterisk dan RasPBX yang diintegrasikan pada Raspberry Pi dengan menggunakan jaringan nirkabel lokal sebagai media transmisi. Sistem ini diujikan dengan menggunakan dua tipe client, yaitu PC dan smartphone dengan mengukur QoS dengan rata-rata delay 0.4463ms, rata-rata throughput 16.36KBps, rata-rata packet loss 0.889% dan jitter 1.102ms.
References
[1] L. Laurenz And E. Putro, "Perancangan Dan Pembangunan Sistem Voice Over Internet Protocol," Teknik dan Ilmu Komputer., Vol. 2, No. 1, Pp. 221–231, 2012.
[2] O. Purbo And A. Raharja, "Voip Cookbook: Building Your Own Telecommunication Infrastructure," Internet Society Innovtion Fund, 2010.
[3] R. Dawood, S. Qiana, And S. Muchallil, "Kelayakan Raspberry Pi Sebagai Web Server: Perbandingan Kinerja Nginx, Apache, Dan Lighttpd Pada Platform Raspberry Pi," Jurnal Rekayasa Elektrika, Vol. 11, No. 1, Pp. 25–29, 2014.
[4] S. F. Rakhman E, Candrasyah F, Raspberry Pi, Mikrokontroler Mungil Yang Serba Bisa. Yogyakarta: Penerbit Andi, 2015.
[5] D. N. R. Ahmad Sven Heddin Timoryansyah, Hafidudin, "Implementasi Voip Server Dengan Menggunakan Mini Pc," E-Proceeding Applied Science., Vol. 1, No. 3, Pp. 1–8, 2015.
[6] R. R. I. Irwan Andaltria, Sudjadi Sudjadi, "Layanan Call Conference Menggunakan Asterisk Di Dalam Jaringan Lokal," Transient, Vol. 2, No. 1, Pp. 202–208, 2013.
[7] Nurindriyan Bintang Pamungkas, Simulasi Bandwidth Management Dengan Metode Queue Tree Dan Pemanfaatan Scripting Pada Router Os Mikrotik, Tugas Akhir. Universitas Telkom Bandung, 2013.
[8] P. K. Sudiarta And G. Sukadarmika, "Penerapan Teknologi Voip Untuk Mengoptimalkan Penggunaan Jaringan Intranet Kampus Universitas Udayana," Jurnal Teknologi Elektro, Vol. 8, No. 2, Pp. 62–70, 2009.
[9] L. Yulianto, A. Rochim, And T. Andromeda, "Perancangan Dan Implementasi Perangkat Lunak Telephone IP Pada Jaringan Komputer Lokal," Transmisi, Vol. 13, No. 4, Pp. 127–134, 2011.
[10] International Telecommunication Union. ITU-T Rec G114, Transmission Systems and Media, Digital Systems and Networks. Geneva: ITU-T Press, 2003.
Refbacks
There are currently no refbacks.
Supervised by: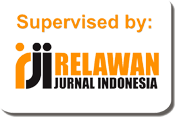 Statistic:

Creative Commons License Kinetik : Game Technology, Information System, Computer Network, Computing, Electronics, and Control by http://kinetik.umm.ac.id is licensed under a Creative Commons Attribution-ShareAlike 4.0 International License.