Sistem Pengaturan Kecepatan Motor Induksi Tiga Fasa Menggunakan Kontroler PID Berbasis Genetic Algorithm
Abstract views: 3599
Sistem Pengaturan Kecepatan Motor Induksi Tiga Fasa Menggunakan Kontroler PID Berbasis Genetic Algorithm
Abstract
Motor induksi tiga fasa merupakan peralatan penggerak yang paling banyak digunakan dalam dunia industri karena mempunyai konstuksi yang kuat dan sederhana. Dalam pengaturan kecepatan pada motor induksi tiga fasa diperlukan adanya inverter sebagai alat yang berfungsi untuk megatur kecepatan motor dengan mengubah nilai frekuensi. Untuk mengatur nilai frekuensi yang sesuai pada inverter dibutuhkan suatu krontroler, salah satu kontroler yang paling banyak digunakan adalah kontroler PID. Nilai parameter kontrol yang ada pada kontroler PID sangat berpengaruh terhadap respon kecepatan motor, sehingga diperlukan sebuah metode pencarian yang mana digunakan GA dalam penentuan parameter kontrol PID. Penentuan parameter kontrol PID menggunakan GA dilakukan dengan lima jangkauan pembatasan pada nilai pembangkitan individu sehingga didapatkan berbagai macam nilai yang berbeda-beda dan diharapkan sesuai dengan respon kecepatan yang diinginkan. Berdasarkan hasil pengujian yang telah dilakukan diketahui bahwa respon kecepatan motor setelah diberikan kontroler PID berbasis GA dapat mencapai kecepatan referensi 120 rad/s dengan kecepatan aktual saat beban 100 Nm sebesar 120,1 rad/s sehingga didapatkan ess 0,083%.
Keywords
Motor induksi tiga fasa, Inverter, PID, Genetic Algorithm
References
[1] Hamzah Berahim. 1994. PENGANTAR TEKNIK TENAGA LISTRIK Teori Ringkas dan Penyelesaian Soal. Yogyakarta: Andi Offset.
[2] Ismail Muchsin. 2009. Motor Induksi. Jurnal Pusat Pengembangan Bahan Ajar: UMB.
[3] Sumanto. 1993. MOTOR LISTRIK Arus Bolak – Balik Motor Sinkron Motor Induksi. Yogyakarta: Andi Offset.
[4] Yon Rijono. 2002. Dasar Teknik Tenaga Listrik Edisi Revisi. Yogyakarta: Andi.
[5] Zuhal. 1988. DASAR TEKNIK TENAGA DAN ELEKTRONIKA DAYA. Jakarta: Gramedia.
[6] Abu-Rub Haitham, Iqbal Atif, Guzinski Jaroslaw. 2012. HIGH PERFORMANCE CONTROL OF AC DRIVES WITH MATLAB/SIMULINK MODELS. UK: John Wiley & Sons, Inc.
[7] M Subchan Mauludin. 2011. Simulasi Kontrol PID Untuk Mengatur Putaran Motor AC. Semarang
[8] Nurhadi. Diktat Elektronika Daya. Malang: UMM.
[9] Rashid M.H. 2011. POWER ELECTRONICS HANDBOOK:devices, circuits,and applications handbook. USA: Butterworth-Heinemann.
[10] Aris Sugiharto. 2006. Pemrograman GUI dengan MATLAB. Yogyakarta: Andi Offset.
[11] Endra Pitowarno. 2006. ROBOTIKA DESAIN, KONTROL, DAN KECERDASAN BUATAN. Yogyakarta: Andi Offset.
[12] Ermanu Azizul Hakim, 2012. Sistem Kontrol. Malang: UMM Press.
[13] Muhamad Ali. 2010. Materi Kuliah Elektronika Daya. Yogyakarta: UNY
[14] Falahal Abadi, 2015, Desain Optimal Power System Stabilizer (PSS) PLTMH Berbasis Fuzzy PID Menggunakan Genetic Algorithm. Malang.
[15] Zainudin Zukhri. 2014. Algoritma Genetika Metoda Komputasi Evolusioner untuk Menyelesaikan Masalah Optimasi. Yogyakarta: Andi Offset.
[16] Muhammad Arhami dan Anita Desiani. 2005. Pemrograman MATLAB. Yogyakarta: Andi.
[17] The Mathworks, Inc., Le-Huy, H., 2016. Vector Control of AC Motor Drive.
Refbacks
There are currently no refbacks.
Supervised by: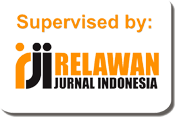 Statistic:

Creative Commons License Kinetik : Game Technology, Information System, Computer Network, Computing, Electronics, and Control by http://kinetik.umm.ac.id is licensed under a Creative Commons Attribution-ShareAlike 4.0 International License.