Abstract views: 659
Sistem Informasi Manajemen Layanan SMS Center Universitas Muhammadiyah Malang
Abstract
Universitas Muhammadiyah Malang memiliki sebuah legacy system, yakni layanan SMS gateway. Selama sistem ini digunakan muncul beberapa kebutuhan baru, yakni kebutuhan akan fungsional dan non fungsional, diantaranya adalah automatic reply yang diintegrasikan dengan data request, automatic broadcast dan interface yang responsif. Munculnya berbagai kebutuhan baru ini menandakan bahwa institusi berharap performa dan fungsionalitas dari legacy system bertambah. Ketika perlu untuk memperbarui software dan berharap performa, keandalan, dan fungsionalitasnya bertambah, tanpa mempengaruhi fungsi utamanya, software re-engineering dapat mengatasi masalah seperti ini. Software re-engineering dapat diimplementasikan pada legacy system (SMS gateway) untuk ditransformasikan kedalam sistem informasi manajemen layanan SMS center, sehingga beberapa kebutuhan baru seperti automatic reply yang diintegrasikan dengan data request, automatic broadcast, dan interface yang responsif dapat direalisasikan. Pada software re-engineering terdapat model proses yang harus dilakukan dalam proses implementasi. sehingga proses transformasi dari legacy system ke sistem informasi manajemen layanan SMS center serta proses penambahan beberapa kebutuhan baru dapat berjalan dengan baik, sehingga apa yang diharapkan institusi dapat direalisasikan.
Keywords
Berita, news,Software Re-engineering, Legacy System, SMS Gateway, Automatic Reply. Automatic Broadcast
References
[1] Demeyer Serge, Stephane Ducasse dan Oscar Nierstrasz, "Object Oriented Reengineering Patterns", Switzerland: Square Bracket Associates, 2013.
[2] R. S. Pressman, "Software Engineering : A Practitioner's Approach Fifth Edition", New York: McGraw-Hill Companies, Inc, 2001.
[3] I. Sommerville, "Software Engineering Seventh Edition", United Kingdom: Addison-Wesley, 2004.
[4] Abbas, Jeberson dan Klinsega, "The Need of Re-engineering in Software Engineering", United Kingdom: IJET Publications, 2012.
[5] Eilam, Eldad & Chikofsky, Elliot J, "Reversing: secrets of reverse engineering", John Wiley & Sons, 2007.
Refbacks
There are currently no refbacks.
Supervised by: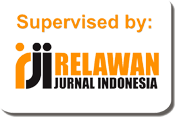 Statistic:

Creative Commons License Kinetik : Game Technology, Information System, Computer Network, Computing, Electronics, and Control by http://kinetik.umm.ac.id is licensed under a Creative Commons Attribution-ShareAlike 4.0 International License.