Abstract views: 589
Perancangan Generator 100 Watt Menggunakan Software Magnetik Infolityca
Abstract
Perancangan generator menggunakan softawre merupakan hal yang sangat dibutuhkan sebelum melakukan pembuatan generator karena mampu mensimulasikan diameter, material, ketebalan, jumlah lilitan dan kecepatan putar generator sehingga nantinya ketika melakukan pembuatan generator bisa mencapai tingkat keberhasilan yang tinggi. Para peneliti sebelumnya ketika membuat generator langsung melakukan pembuatan tanpa ada simulasi terlebih dahulu sehingga hasil yang dicapi masih kurang dari target yang diingginkan. Software elektromgantik infolityca merupakan software yang mampu mensimulasi motor dan generator. Software infolityca merupakan software yang berbasis Fenite Element Methode (FEM) atau metode pembagan tak hingga. Adapun generator yang dirancang bertipe radial fluks dengan jumlah 12 slot 8 pole, diameter 13 centimeter, ketebalannya 5 centimeter serta menggunakan 12 lilitan diputar dengan 100 rpm dan frekuensi 66,6667 Hz. Didapatkan hasil dari rancangan generator tanpa beban tegangan outoput sebesar 21,65 volt, arus sebesar 0 ampere dan untuk rancangan generator berbeban didapatkan output tegangan sebesar 23,89, arusnya sebesar 5 Ampere.
Keywords
Generator, Desain Generator, Generator 100 Watt, FEM, Infolityca
References
[1] W. Pramono And A. Hidayat, "Perancangan Mini Generator Turbin Angin 200 W Untuk Energi Angin Kecepatan Rendah," Prosiding Seminar Nasional Teknologi Industri dan Informatika (SNATIF), Vol. 2, 2015.
[2] T. Kenjō And S. Nagamori, "Permanent-Magnet And Brushless DC Motors," Oxford University Press, Vol. 18, 1985.
[3] M. Satriawan, Fisika Dasar. Universitas Gadjah Mada, 2012.
[4] J. Hendershot And T. Miller, Design Of Brushless Permanent-Magnet Motors. Magna Physics Pub, 1994.
[5] A. Fitzgerald, C. Kingsley, S. Umans, And B. James, Electric Machinery, Vol. 5. New York: Mcgraw-Hill, 2003.
[6] S. Chapman, Electric Machinery Fundamentals. Tata Mcgraw-Hill Education, 2005.
[7] I. D. A. M. E. A. E. Fitzgerald, Charles Kingsley., Jr, Stephen D. Umans, Mesin-Mesin Listrik. Jakarta: Erlangga, 1986.
Refbacks
There are currently no refbacks.
Supervised by: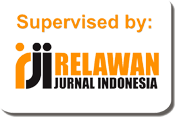 Statistic:

Creative Commons License Kinetik : Game Technology, Information System, Computer Network, Computing, Electronics, and Control by http://kinetik.umm.ac.id is licensed under a Creative Commons Attribution-ShareAlike 4.0 International License.