Abstract views: 1314
Sistem Pakar Diagnosa Dini Penyakit Leukimia Dengan Metode Certainty Factor
Abstract
Penyakit kanker darah (Leukimia) menduduki peringkat tertinggi kanker pada anak. Namun, penanganannya di indonesia masih terbilang lambat. Leukimia perlu diketahui sedini mungkin, untuk mewujudkan hal tesebut diperlukan adanya sebuah sistem pakar. Perhitungan ketidakpastian dalam sistem pakar ini menggunakan metode certainty factor. Metode ini merupakan perhitungan tingkat kepastian terhadap kesimpulan yang diperoleh dan dihitung berdasarkan nilai probabilitas penyakit karena adanya evident gejala. Maka, bisa diasumsikan bahwa sistem pakar identifikasi dini penyakit leukimia dapat menggunakan metode certainty factor sebagai metode pendukungnya. Diharapkan dengan sistem ini, orang awam dapat memanfaatkannya untuk penanganan atau pertolongan pertama penyakit leukimia.
Sistem pakar identifikasi dini penyakit leukimia dengan metode certainty factor melakukan diagnosa dengan cara menganalisa masukan gejala tentang apa yang dirasakan oleh pasien. Masukan gejala tersebut kemudian diolah dengan menggunakan kaidah tertentu sesuai dengan ilmu pengetahuan pakar atau dokter umum yang sebelumnya sudah disimpan di dalam basis pengetahuan. Hasil dari penelitian ini adalah membangun dan mengembangkan sebuah aplikasi sistem pakar identifikasi dini penyakit leukimia dengan metode certainty factor. Aplikasi inidapat dijadikan alternatif pemanfaatan teknologi agar dapat digunakan untuk mendeteksi peyakit kanker darah (leukimia) sejak dini secara cepat, tepat, dan akurat, sehingga untuk kedepannya penanganan terhadap penderita penyakit leukimia bisa lebih cepat dan lebih banyak jiwa yang bisa diselamatkan.
Keywords
leukimia, sistem pakar, certainty factor h
References
[1] Ramadhan, Mukhlis. Sistem Pakar dalam Mengidentifikasi Penyakit Kanker pada Anak Sejak Dini dan Cara Penanggulanganya. Sumatera Utara: STMIK Triguna Dharma; 2011.
[2] Kusrini. Aplikasi Sistem Pakar. Andi Offset. Yogyakarta. 2008.
[3] Adhisty, Sherly. Sistem Pakar Pendeteksian Penyakit Sistem Transportasi Tubuh Dengan Metode Backward Chaining. Semarang: Universitas Diponegoro; 2011.
[4] Kusumadewi, Sri. Artificial Inteligence. Graha llmu: Yogyakarta. 2003.
[5] Yatim, Dr. Faisal, DTM&H, MPH. Talasemia, Leukimia, dan Anemia. Jakarta: Versi Online IMU. 2003.
[6] Bozzone, Donna M. The Biology of Cancer Leukimia. New York: Chelsea House Publisher. 2009.
[7] Ayub, M. dan Sihombing, M.Y. Sistem Pakar Berbasis Web sebagai Alat Bantu Pembelajaran Mahasiswa Kedokteran untuk Penyakit Kanker Darah pada Anak. Bandung: Universitas Kristen Maranatha; 2010.
Refbacks
There are currently no refbacks.
Supervised by: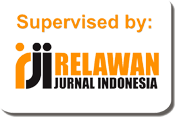 Statistic:

Creative Commons License Kinetik : Game Technology, Information System, Computer Network, Computing, Electronics, and Control by http://kinetik.umm.ac.id is licensed under a Creative Commons Attribution-ShareAlike 4.0 International License.