Implementasi Framework Twitter Bootstrap Dalam Perancangan Aplikasi Penerimaan Mahasiswa Baru Berbasis Web
Abstract views: 1215
Implementasi Framework Twitter Bootstrap Dalam Perancangan Aplikasi Penerimaan Mahasiswa Baru Berbasis Web
Abstract
Dalam mendesain template aplikasi berbasis web, programmer web menggunakan sintaks-sintaks CSS untuk membuat tampilan menjadi lebih menarik. Dalam perkembangannya banyak tool-tool atau framework CSS yang dapat dimanfaatkan untuk mempercepat pengerjaan desain template web, diantaranya Gumby, Foundation, Less Framework, Blueprint CSS dan Twitter Bootstrap. Dari beberapa framework CSS tersebut, Twitter Bootstrap hadir dengan tutorial dan dokumentasi yang berlimpah serta memiliki fitur responsive. Pada penelitian ini penulis megimplementasikan framework Twitter Bootstrap pada perancangan aplikasi penerimaan mahasiswa baru berbasis web. Tahapan yang diambil dalam perancangan Aplikasi Penerimaan Mahasiswa Baru ini diawali dengan mendownload Twitter Bootstrap dari website resminya dan melakukan ekstraksi ke folder project setelah itu baru class-class yang disediakan oleh Twitter Bootstrap dapat dipanggil dalam pengerjaan desain aplikasi. Dengan penerapan framework twitter bootstrap ini pengerjaan desain aplikasi lebih cepat karena tidak perlu lagi memikirkan sintaks-sintaks css dan menghasilkan template yang responsive, ringan dan simple.
Keywords
Web, CSS, Bootstrap
References
[1] Rahman, A. Abdur, and S. Chitra Devi. "A framework for ultra-responsive light weight web application using Angularjs." Green Engineering and Technologies (IC-GET), 2015 Online International Conference on. IEEE, 2015.
[2] Peng, Wenhui, and Yaling Zhou. "The Design and Research of Responsive Web Supporting Mobile Learning Devices". Educational Technology (ISET), 2015 International Symposium on. IEEE, 2015.
[3] Balasubramanee, Viknes, et al. "Twitter bootstrap and AngularJS: Frontend frameworks to expedite science gateway development". Cluster Computing (CLUSTER), 2013 IEEE International Conference on. IEEE, 2013.
Refbacks
There are currently no refbacks.
Supervised by: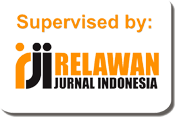 Statistic:

Creative Commons License Kinetik : Game Technology, Information System, Computer Network, Computing, Electronics, and Control by http://kinetik.umm.ac.id is licensed under a Creative Commons Attribution-ShareAlike 4.0 International License.