Abstract views: 1632
Interaktif Augmented Reality untuk Katalog Penjualan Rumah Berbasis Android
Abstract
Pertumbuhan bisnis properti di Indonesia setiap tahun mengalami peningkatan, namun tidak banyak pihak pengembang properti di Indonesia yang memanfaatkan teknologi Augmented Reality (AR) sebagai media promosi untuk memasarkan produk, rata-rata masih menggunakan brosur. Penelitian tentang katalog penjualan rumah menggunakan AR juga bukan hal baru, ada beberapa penelitian sejenis yang sudah pernah dilakukan sebelumnya, namun dikonsentrasikan pada pendeteksian marker untuk menampilkan model 3D baik menggunakan marker khusus atau brosur yang dijadikan sebagai marker. Marker yang berhasil dideteksi menampilkan objek denah dan bentuk rumah 3D. Penelitian ini fokus pada pembuatan katalog penjualan rumah menggunakan teknologi AR dengan menambahkan  fitur yang belum ada pada penelitian sebelumnya. Beberapa fitur yang ditambahkan adalah mengubah warna cat dinding, pintu dan jendela pada model rumah 3D, sehingga pengguna dapat mengubah warna sesuai dengan warna yang disediakan. Katalog penjualan rumah menggunakan teknologi AR yang dikembangkan berjalan pada platform android mobile dan dibuat menggunakan aplikasi Unity. Metode yang digunakan pada penelitian ini adalah SDLC Waterfall. Hasil pengujian menunjukkan bahwa aplikasi dapat berjalan sesuai dengan yang direncanakan khususnya fitur-fitur yang ditambahkan seperti fitur untuk mengganti warna cat dinding, pintu dan jendela pada objek rumah 3D dapat dijalankan dengan baik.
Keywords
Interactive Augmented Reality, Katalog Rumah, Android, dan 3D model
References
[1] Gorbala BT, Hariadi M. Aplikasi Augmented Reality untuk Katalog Penjualan Rumah. Institut Sepuluh Nopember Surabaya. 2010.
[2] Matkovic K, Psik T, Wagner I, Gra?anin D. Dynamic texturing of real objects in an augmented reality system. InVirtual Reality, 2005. Proceedings. VR 2005. IEEE 2005 Mar 12 (pp. 257-260). IEEE.
[3] Azuma RT. A survey of augmented reality. Presence: Teleoperators and virtual environments. 1997 Aug;6(4):355-85.
[4] Rifa'i M, Listyorini T, Latubessy A. Penerapan Teknologi Augmented Reality pada aplikasi katalog rumah berbasis android. Prosiding SNATIF. 2014 Jan 9:267-74.
[5] Putri P, Afriyantari D. Augmented Reality Untuk Bisnis Properti Sebagai Sarana Pemasaran Berbasis Android (Doctoral dissertation, Universitas Muhammadiyah Surakarta).
[6] Balaji S, Murugaiyan MS. Waterfall vs. V-Model vs. Agile: A comparative study on SDLC. International Journal of Information Technology and Business Management. 2012 Jun 29;2(1):26-30.
[7] Bassil Y. A simulation model for the waterfall software development life cycle. arXiv preprint arXiv:1205.6904. 2012 May 31.
Refbacks
There are currently no refbacks.
Supervised by: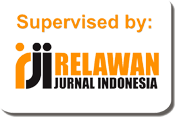 Statistic:

Creative Commons License Kinetik : Game Technology, Information System, Computer Network, Computing, Electronics, and Control by http://kinetik.umm.ac.id is licensed under a Creative Commons Attribution-ShareAlike 4.0 International License.