News: Kinetik's policies update

Kinetik's policies update:
1. Single author allowed
2. Peer review process using Binary peer review
3. Referencing at least 25 references
4. Single-blind review
5. No fast track option, all peer review process will be a rapid decision and publication, decision within 4 weeks and publication process typically 4-8 weeks
6. Articles with an international author or as an international co-author will be free of charges
Posted: 2020-08-28
More...

News: Kinetik Publication fees

Fees charged for the process in the journal are organized as follows:

Article submission: Free
Article Publication: 1.000.000 (IDR) / 80 (USD)
This charge is for the first 8 pages, and if any published manuscript over 8 pages will incur extra charges IDR 100.000,- per page

(Article submission per 1 August 2019 will be charged publication fees)

Posted: 2019-08-01
More...

News: Accredited Ristekdikti Sinta 2

Since April 2019, the journal has been 

ACCREDITED

 with grade "

SINTA 2

" by the Ministry of Research, Technology and Higher Education (RistekDikti) of The Republic of Indonesia as an achievement for the peer-reviewed journal which has excellent quality in management and publication. The recognition published in Director Decree 

No. 10/E/KPT/2019

 April 4, 2019 effective until 2024.

Posted: 2019-07-30

News: Workshop of Journalism Assistance for Potential Accreditation Journal on 2018 – July 11-13, 2018

This activity is completed to develop National scientific journal accreditation. Directorate General of Intellectual Property, Directorate General of Research Development. The participating Journals are expected to be accredited nationally.
Posted: 2018-07-13

News: Seminar of Management Intensification Strategy toward Accredited Scientific Journal – May 2, 2018

This activity was executed for Journal Managers in  supporting their Journals before accreditation. This event was held at Ijen Suites Resort and Convention Malang.


Posted: 2018-07-13

News: Preparation of KINETIK Internal Accreditation – January 27 – 31, 2018

This activity is spent for KINETIK Internal Accreditation preparation which will be held on Ibis hotel. This activity discusses about some information to improve KINETIK quality before accreditation
Posted: 2018-07-13

News: Relawan Jurnal Indonesia (RJI) Yogyakarta - January 18, 2018

This activity was achieved in order to "Sharing The Preparation Experience for Accreditation". This activity was performed to share knowledge and experience among Journal managers.
Posted: 2018-07-13

News: Clinic Preparation of Journal Accreditation Workshop – October 5, 2017

This activity is accomplished for " 2018 Journal Accreditation Preparation Clinic". It will be held on University of Muhammadiyah Malang senate courtroom. The material is delivered by Prof. Istadi, M.Eng, D.Eng. The aim of this event is to encourage UMM Journals in ascribing their Journals.
Posted: 2018-07-13

News: Relawan Jurnal Indonesia (RJI) Jawa Timur - April 7, 2017

This activity was carried out in the framework of technical briefing on the management of OJS Journal system. This activity is organized by Indonesian Volunteer Journal which is located in Muhammadiyah University of Sidoarjo East Java.
Posted: 2018-07-13

News: Workshop on Improving OJS System Journal - March 18, 2017

Workshop on Improving OJS System Journal in Universitas Muhammadiyah Malang E-Journal
Posted: 2018-07-13
More...

News: Indexing SINTA

Kinetik has been indexed by Sinta S3 Ristek Dikti http://sinta2.ristekdikti.go.id/journals/detail?id=1197
Posted: 2018-02-12

News: Indexing DOAJ

Kinetik has been indexed by DOAJ Green tick

Posted: 2017-05-04

News: Indexing

Kinetik has been indexing in Google Scholar, One Search, Base.
Posted: 2017-04-21

News: Author and References

To improve the quality of the articles, every article should be at least two people and 10 references
Posted: 2017-04-18
Supervised by: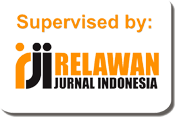 Statistic:

Creative Commons License Kinetik : Game Technology, Information System, Computer Network, Computing, Electronics, and Control by http://kinetik.umm.ac.id is licensed under a Creative Commons Attribution-ShareAlike 4.0 International License.