Abstract views: 522
Pemilihan Dan Migrasi VM Menggunakan MCDM Untuk Peningkatan Kinerja Layanan Pada Cloud Computing
Abstract
Komputasi awan atau cloud computing merupakan lingkungan yang heterogen dan terdistribusi, tersusun atas gugusan jaringan server dengan berbagai kapasitas sumber daya komputasi yang berbeda-beda guna menopang model layanan yang ada di atasnya. Virtual machine (VM) dijadikan sebagai representasi dari ketersediaan sumber daya komputasi dinamis yang dapat dialokasikan dan direalokasikan sesuai dengan permintaan. Mekanisme live migration VM di antara server fisik yang terdapat di dalam data center cloud digunakan untuk mencapai konsolidasi dan memaksimalkan utilisasi VM. Pada prosedur konsoidasi vm, pemilihan dan penempatan VM sering kali menggunakan kriteria tunggal dan statis. Dalam penelitian ini diusulkan pemilihan dan penempatan VM menggunakan multi-criteria decision making (MCDM) pada prosedur konsolidasi VM dinamis di lingkungan cloud data center guna meningkatkan layanan cloud computing. Pendekatan praktis digunakan dalam mengembangkan lingkungan cloud computing berbasis OpenStack Cloud dengan mengintegrasikan VM selection dan VM Placement pada prosedur konsolidasi VM menggunakan OpenStack-Neat. Hasil penelitian menunjukkan bahwa metode pemilihan dan penempatan VM melalui live migration mampu menggantikan kerugian yang disebabkan oleh down-times sebesar 11,994 detik dari waktu responnya. Peningkatan response times terjadi sebesar 6 ms ketika terjadi proses live migration VM dari host asal ke host tujuan. Response times rata-rata setiap vm yang tersebar pada compute node setelah terjadi proses live migration sebesar 67 ms yang menunjukkan keseimbangan beban pada sistem cloud computing.
Keywords
cloud computing, virtual machine migration, load balancing, dynamic vm consolidation
References
[1] Mell, P., & Grance, T. (2011). "The NIST Definition of Cloud Computing." National Institute of Standard and Technology
[2] Khiyaita, A., Zbakh, M., Bakkali, H., & Kettani, D. (2012). "Load Balancing Cloud Computing:state of art." Network Security and Systems (JNS2), 106-109.
[3] Beloglazov, A., & Buyya, R. (2012). "Optimal Online Deterministic Algorithms and Adaptive Heuristics." Concurrency and Computation: Practice and Expreience, 1397-1420.
[4] Armbrust, M., Fox, A., Griffith, R., Joseph, A., Katz, R., Konwindsky, A., Zaharia, M. (2009). "Above the Clouds: A Berkeley View of Cloud Computing." Electrical Engineering and Compute Sciences Unversity of California at Berkely.
[5] Beloglazov, A., & Buyaa, R. (2013). "Managing Overloaded Hosts for Dynamic Consolidation of Virtual Machines in Cloud Data Centers Under Quality of Service Constraints." IEE Transactions on parallel and distributed system.
[6] Kusumadewi, S. (2006). "Fuzzy Multi-Attribute Decision Making (FMADM)." Yogyakarta: Graha Ilmu.
[7] OpenStack. (2013). OpenStack Cloud Administrator Guide. docs.openstack.org
[8] Beloglazov, A., & Buyya, R. (2013). OpenStack Neat: A Framework for Dynamic and Energy-Efficient Consolidation of Virtual Machines in OpenStack.
[9] Beloglazov, A. (2014, April). OpenStack Neat. Retrieved from http://www.openstack-neat.org
Refbacks
There are currently no refbacks.
Supervised by: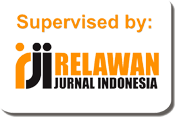 Statistic:

Creative Commons License Kinetik : Game Technology, Information System, Computer Network, Computing, Electronics, and Control by http://kinetik.umm.ac.id is licensed under a Creative Commons Attribution-ShareAlike 4.0 International License.