Deteksi Gerak Otot Frontalis Berbasis Citra 3 Dimensi Menggunakan Gray Level Co-Occurrence Matrix (GLCM)
Abstract views: 754
Deteksi Gerak Otot Frontalis Berbasis Citra 3 Dimensi Menggunakan Gray Level Co-Occurrence Matrix (GLCM)
Abstract
Ekspresi wajah atau mimik merupakan salah satu dari hasil gerak otot pada wajah. Dalam kamus besar bahasa Indonesia, ekspresi merupakan pengungkapan atau proses menyatakan, yaitu memperlihatkan atau menyatakan maksud, gagasan perasaan dan lain sebagainya. Ekspresi wajah atau mimik dipengaruhi oleh saraf tujuh atau nervuse facialis. Facial Action Coding System (FACS) standardiasi ekspresi dalam format pergerakan enam ekspresi dasar, yaitu bahagia, sedih, terkejut, takut, marah dan jijik. Dalam otot, bahwa setiap otot yang bergerak pasti terjadi kontraksi, dan pada saat terjadi kontraksi, otot akan mengembang atau menggelembung. Otot dibagai menjadi tiga bagian, yaitu origo dan insersio sebagai ujung otot dan belly sebagai titik tengah otot, jadi setiap terjadi gerakkan maka otot bagian belly akan mengembang atau menggelembung. Teknik pengambilan data yaitu dengan merekam data dalam bentuk 3D, setiap terjadi kontraksi maka otot bagian belly akan menggelembung dan data inilah yang akan diolah dan dibandingkan. Dari pengolahan data ini akan didapat kekuatan maksimum kontraksi yang akan dipakai sebagai acuan untuk besaran pergeseran otot khususnya pada otot frontalis. Dalam deteksi pergerakan akan menggunakan metode Gray Level Co-occurrence Matrix (GLCM), dan akan didapatkan pula besaran pergeseran otot secara maksimal. Dari hasil pengujian didapatkan nilai pergeseran pergerakan otot sebesar 2.928.
Keywords
Frontalis, Gray Level Co-occurrence Matrix, Ekpresi
References
[1] Ekman, Paul, and Wallace V. Friesen. "Measuring facial movement." Environmental psychology and nonverbal behavior 1.1 (1976): 56-75.
[2] Tian, Y-I., Takeo Kanade, and Jeffrey F. Cohn. "Recognizing action units for facial expression analysis." IEEE Transactions on pattern analysis and machine intelligence 23.2 (2001): 97-115.
[3] Juricevic, Igor, and Michael Webster. "Selectivity of face aftereffects for expressions and anti-expressions." Frontiers in psychology 3 (2012): 4.
[4] Minarno, Agus Eko, and Nanik Suciati. "Image Retrieval Using Multi Texton Co-Occurrence Descriptor." Journal of Theoretical & Applied Information Technology 67.1 (2014).
Refbacks
There are currently no refbacks.
Supervised by: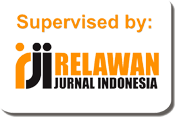 Statistic:

Creative Commons License Kinetik : Game Technology, Information System, Computer Network, Computing, Electronics, and Control by http://kinetik.umm.ac.id is licensed under a Creative Commons Attribution-ShareAlike 4.0 International License.