Abstract views: 758
Prototipe Sistem Kontrol Jarak Jauh Beberapa Alat Pendingin Ruangan Berbasis Raspberry Pi
Abstract
Saat ini pengendalian on/off berbagai piranti listrik kebanyakan masih dikendalikan dengan menekan tombol saklar atau remote yang penggunaannya dengan jarak yang dekat. Untuk menjawab kebutuhan masyarakat tentang sistem kontrol yang cepat dan dinamis diperlukan suatu teknologi sistem kontrol jarak jauh yang memungkinkan proses secara cepat agar dapat menghemat waktu dan tenaga khususnya pengendalian beberapa alat pendingin ruangan yang berada di beberapa ruangan. Penelitian ini merupakan penelitian lanjutan dari peneliti terdahulu dan menggunakan perangkat yang mempunyai teknolgi terbaru yaitu Raspberry Pi sebagai pengendali untuk membuat suatu sistem kontrol beberapa AC (Air Conditioning) pada ruangan yang berbeda secara jarak jauh. Diharapkan dapat sebagai salah satu solusi untuk perkembangan gaya hidup dan dinamika sosial saat ini yang semakin mementingkan kepraktisan dan efisiensi. Metodologi penelitian yang akan digunakan menggunakan metodologi waterfall dengan tahap-tahapannya yaitu tinjauan pustaka, analisa kebutuhan pengguna, analisis sistem, perancangan sistem, implementasi dan pengujian. Hasil akhir dari penelitian adalah prototipe pengendali jarak jauh beberapa perangkat AC Raspberry Pi.
Keywords
Air Conditioning, Raspberry Pi, Sistem Kontrol, Jarak Jauh
References
[1] A. Solikin, "Perancangan Kominikasi Serial Antara Handphone dengan Mikrokontroler," Jurnal Teknik Elektro dan Komputer, vol. 4, no. 1, 2004.
[2] M. Hamid and Y. Mappeasse, "Kontrol AC Jarak Jauh Dengan Menggunakan Handphone," Media Elektrik, vol. 3, no. 1, 2008.
[3] N. Perkasa, "Sistem Sistem Kontrol Jarak Jauh melalui Jaringan Komputer untuk mengontrol Penerangan Ruangan dan Air Conditioner (AC) Pada Laboratorium STIMIK AMIKOM Yogyakarta," AMIKOM, Yogyakarta, 2013.
[4] M. Subianto, "Rancang Bangun Sistem Lock And Controlling Class Rooms (LCCR) Berbasis Raspberry Pi," in Digital Information & Systems Conference, Bandung, 2014.
[5] J. Hartono, Metodologi Penelitian Sistem Informasi, Yogyakarta: Andi, 2008.
Refbacks
There are currently no refbacks.
Supervised by: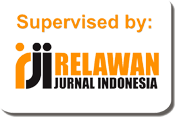 Statistic:

Creative Commons License Kinetik : Game Technology, Information System, Computer Network, Computing, Electronics, and Control by http://kinetik.umm.ac.id is licensed under a Creative Commons Attribution-ShareAlike 4.0 International License.